Business Beat
By Kurt Helin, Downtown Gazette
Date: 07/19/99
Japanese Animation - commonly called "anime" - has a passionate following in the United States.
Two of those followers - David Ramsay and Kimberly Johnson - who live here in Long Beach have been avid collectors and designed anime costumes for years. Their costumes have won awards at events such as the AnimeExpo and other major industry events.
The couple has now turned that into a business, designing costumes for the public that will stand out in a crowd at events like Halloween or costume parties.
For more information call 856-5779, or check out their web site at www.cosplaycloset.com.
Refresh to David's Costume Gallery
---
This site visited
times since 4/11/99.
Free counters provided by Honesty Communications.

---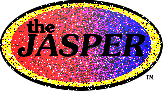 Copyright 1997~2006 David Ramsay and Kimberly J. Ramsay. All rights reserved.
"The Japanese Animation Super Premier Entertainment Review" ,
"the J.A.S.P.E.R." and "theJASPER" logo are trademarks of David Ramsay, 1998~2006.
"theJASPER Cosplay Closet" logo and
"The Cosplay Closet: 'Where Costumes Become Anime-ted' "slogan
are ® Registered Trademarks of David Ramsay, 1999~2001.
David "Z-RAM" Ramsay and Kimberly "Hikaru-chan" J. Ramsay acknowledge the
copyright holders of materials contained herein and do not seek to infringe on their rights.
Reproduction in whole or in part without permission is prohibited.