The "Ramen Rumble" performance on the Horror / Kung-Fu Theatre.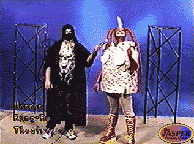 Keiko Ramen challenges Kikko-Man to a battle for
"Seasoning Champion of the World".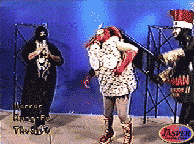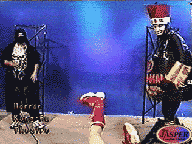 Kikko-Man uses his deadly "Soy Chair" to assist Keiko Ramen out of frame!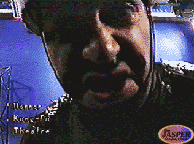 Kikko-Man yelling into the camera:
"I AM THE SEASONING CHAMPION OF THE WORLD!!!"
---
The bout begins...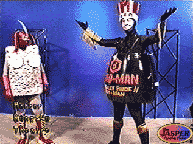 Kikko-Man posing, as usual...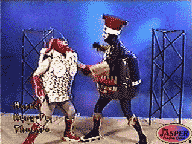 Readeeeee-Fight!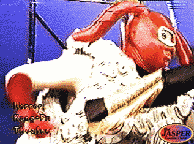 Keiko Ramen dodges the first few blows...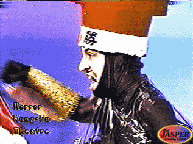 ...but Kikko-Man is a lean, mean seasoning machine.
He will stop at nothing to regain his Seasoning Champion title!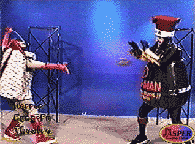 Keiko Ramen fires up one of her "Fishcakes of Love"
and throws Kikko-Man off balance.
Will Kikko-Man survive such an attack? Tune in next week!
---


"1st Place Couple's Dance Contest" trophy.
Refresh to David's Costume Gallery
---
This site visited
times since 4/11/99.
Free counters provided by Honesty Communications.

---
"Ramen Rumble" and "Keiko Ramen" Copyright 1999 David Ramsay and Kimberly J. Ramsay. All rights reserved.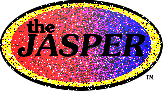 Copyright 1997~2006 David Ramsay and Kimberly J. Ramsay. All rights reserved.
"The Japanese Animation Super Premier Entertainment Review" ,
"the J.A.S.P.E.R." and "theJASPER" logo are trademarks of David Ramsay, 1998~2006.
"theJASPER Cosplay Closet" logo and
"The Cosplay Closet: 'Where Costumes Become Anime-ted' "slogan
are ® Registered Trademarks of David Ramsay, 1999~2001.
David "Z-RAM" Ramsay and Kimberly "Hikaru-chan" J. Ramsay acknowledge the
copyright holders of materials contained herein and do not seek to infringe on their rights.
Reproduction in whole or in part without permission is prohibited.