Bringing Anime to Life
Animation: A convention in Anaheim lets visitors dress up like their favorite characters from increasingly popular Japanese animated films and comics.
By Charles Solomon, Los Angeles Times
Photographs by Alex Garcia, The LA Times
Date: 06/29/00
Anime Expo 2000, an annual convention celebrating Japanese animation and manga (comics/graphic novels), which starts Friday in Anaheim, is the largest of a dozen similar events held in North America this year. More than 6,000 otaku (anime fans) attended the expo in Anaheim last year.
"Fans like the latest thing; they like sharing t and displaying it and broadcasting it," said Oliver Chin, director of sales and marketing at Viz Communications, the largest publisher of manga in America. "Fans of anime and manga are heavily into the Internet, creating Web sites, communicating through news groups, organizing themselves or just trumpeting the fact they really love or really dislike something.
"But there's really no substitute for showing your colors in person: We're seeing a mushrooming of fan conventions nationwide, and the Anime Expo in Anaheim is the largest one in the U.S. It offers fans a chance to do everything from dressing up as their favorite characters to getting autographs from Japanese artists."
Scheduled events for the expo include the first U.S. screening of the feature "Revolutionary Girl Utena: Adolescence Apocalypse," appearances by anime (animated feature films) and manga artists, art exhibits, a masquerade in which participants dress up as anime characters, and a marketplace with videos, animation cels, T-shirts and character merchandise.
Over the last 15 years, anime in America has grown from the specialized preserve of a small cadre of hard-core fans to a half-billion-dollar-a-year industry. Children tune in for their daily does of "Sailor Moon," "Dragon Ball Z" and "Gundam Wing," while their older siblings and parents watch videos of "Tenchi in Tokyo," "Serial Experiments Lain," "Cowboy Bebop" and "Trigun." The influence of anime on American entertainment can easily be seen in both animated ("Titan A.E.") and non-animated ("The Matrix") films.
Southern California has become a major center of anime fandom. "There are a lot of Asian American anime fans, but broadcasting 'Pokémon,' 'Dragon Ball Z' and 'Sailor Moon' has enabled us to reach broader audiences than in the past," said Hideki Goto, vice president of animation for Pioneer Entertainment, which distributes many of the popular anime series in the U.S.
Notes Chin: "In the beginning, the anime and manga titles that came out in the U.S. were generally R-rated and catered to an older, male audience. Now we've seen the market shift to something close to 50-50 male-female, which is definitely counter to the comic market in general, which is about 90% male.
"The heart of the market is still the college freshman or sophomore. The clubs at major schools [UCLA, UC Berkeley, University of Michigan] create an environment of acceptable experimentation and cult-y coolness."
Events such as Anime Expo demonstrate just how mainstream that "cult-y coolness" has become. Last year, there were standing-room crowds for discussions by visiting artists of up-coming stories in popular series and whether those series would be released in the U.S. on videocassette, laserdisc or DVD. The sluggish Japanese economy has made both studios and consumers reluctant to switch from laserdisc to DVD.
Anime Expo 2000: Friday through Monday at the Anaheim Convention Center, Disneyland Resort and Pacific hotels. The Expanded program for Anime Expo 2000 offers screenings of "Princess Mononoke," "Escaflowne: A Girl in Gaia," "X," "Spriggan" and "Gamera" as well as all-day video programs, including one specifically for children.
Guest speakers include Kunihiko Ikuhara (director of "Sailor Moon"), Mahiro Maeda (director of "Blue Submarine No. 6") and manga artist Yu Watase (creator of "Fushigi Yugi: The Mysterious Play"). Ticket prices and complete schedule information are available online at http://www.anime-expo.org.
Refresh to David's Costume Gallery
---
This site visited
times since 4/11/99.
Free counters provided by Honesty Communications.

---
"Pika Sweet" and "Mr. Squirtle" Copyright 1999 David Ramsay and Kimberly J. Ramsay. All rights reserved.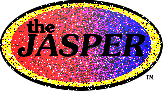 Copyright 1997~2006 David Ramsay and Kimberly J. Ramsay. All rights reserved.
"The Japanese Animation Super Premier Entertainment Review" ,
"the J.A.S.P.E.R." and "theJASPER" logo are trademarks of David Ramsay, 1998~2006.
"theJASPER Cosplay Closet" logo and
"The Cosplay Closet: 'Where Costumes Become Anime-ted' "slogan
are ® Registered Trademarks of David Ramsay, 1999~2001.
David "Z-RAM" Ramsay and Kimberly "Hikaru-chan" J. Ramsay acknowledge the
copyright holders of materials contained herein and do not seek to infringe on their rights.
Reproduction in whole or in part without permission is prohibited.