Roseanne's Haunted Halloween Show

Film Date: 10/28/99, CBS Studios




Her "T.G.I.F. Special" aired on 10/29/99.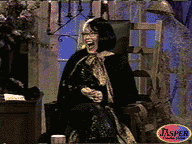 Roseanne in her sexy witch costume (w/ cloven hooves).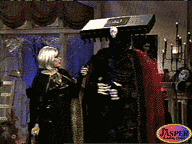 Z-RAM on stage!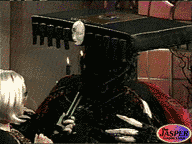 Z-RAM speaks... well, kind of.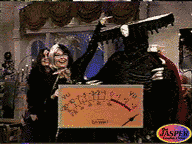 Scream #3: Z-Ram v.3.0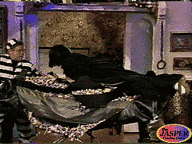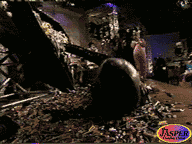 Roseanne climbs aboard the gurney of candy; laughing and screaming her way to the floor.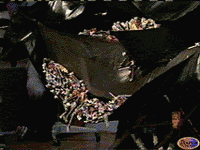 Here is a 21-frame "Candy" clip from the show.
(Animation will begin once all frames have loaded)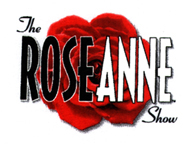 T-shirt logo.
Refresh to David's Costume Gallery
---
This site visited
times since 4/11/99.
Free counters provided by Honesty Communications.

---
"Z-RAM", "Z-RAM Bytes the Dust", "Z-RAM v.2.5: Mechanical Monster", "Z-RAM v.3.0: The Y2K Bug" and "Z-RAM v.4.0: Z-RAM the Kid" Copyright 1997~2000 David Ramsay and Kimberly J. Ramsay. All rights reserved.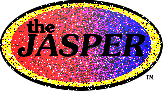 Copyright 1997~2006 David Ramsay and Kimberly J. Ramsay. All rights reserved.
"The Japanese Animation Super Premier Entertainment Review" ,
"the J.A.S.P.E.R." and "theJASPER" logo are trademarks of David Ramsay, 1998~2006.
"theJASPER Cosplay Closet" logo and
"The Cosplay Closet: 'Where Costumes Become Anime-ted' "slogan
are ® Registered Trademarks of David Ramsay, 1999~2001.
David "Z-RAM" Ramsay and Kimberly "Hikaru-chan" J. Ramsay acknowledge the
copyright holders of materials contained herein and do not seek to infringe on their rights.
Reproduction in whole or in part without permission is prohibited.