Everybody's Bird Mart
On March 18, 2001 at the Los Angeles County Fairplex in Pomona, CA.
It was our first Bird Mart, and we had a great time! Thousands of birds for sale, as well as bird cages, toys, specialty gifts and food. So many beautiful birds to view... we wanted to take them home with us. Here are a few our favorite bird images. Please enjoy!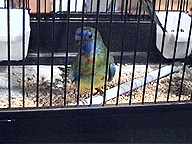 Many wonderful birds were on display at Everybody's Bird Mart. All different sizes, shapes and colors.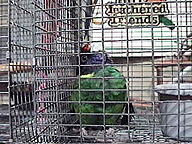 Rare birds for purchase, such as this little fellow.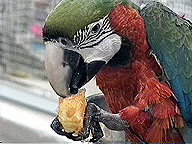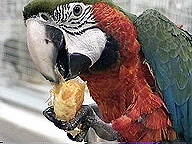 This Macaw was entertaining itself with an orange segment.
Click on images for a larger view!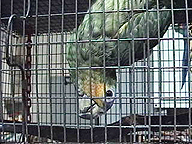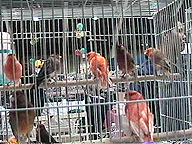 A curious Amazon and lovely Cinnamon Canaries.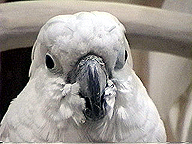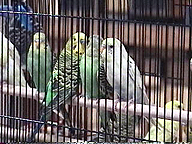 A sweet Umbrella Cockatoo and group of Budgerigars.
Click on Umbrella Cockatoo image for a larger view!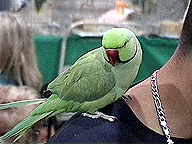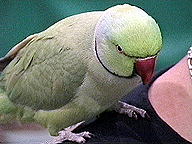 A Ring-neck Parakeet relaxing on a shoulder.
Click on images for a larger view!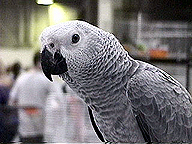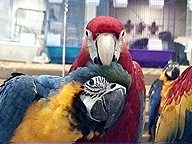 A handsome African Grey and Macaw couple.
Click on African Grey image for a larger view!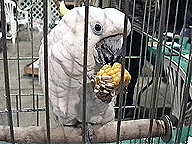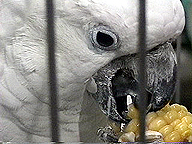 A Sulphur-crested Cockatoo enjoying corn-on-the-cob!
Click on images for a larger view!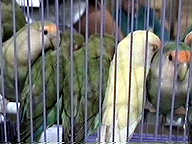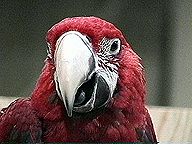 Timid Lovebirds and a friendly Scarlet Macaw.
Click on Scarlet Macaw image for a larger view!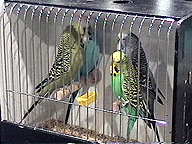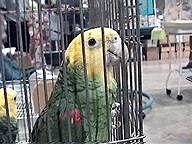 Plump English Budgerigars and a Mexican Double Yellow-headed Amazon.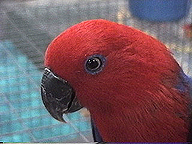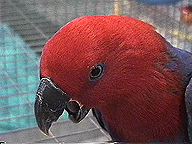 A brightly colored Eclectus Parrot.
Click on images for a larger view!
Return to Budgie Image Gallery Index
---
If you would like to link my site, please use the banner and URL listed below:

http://www.costumemaker.com/budgie.html
Please select another destination:
---
This site visited
times since 2/3/01.
Free counters provided by Honesty Communications.

---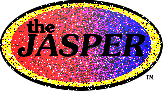 Copyright 2001~2006 David Ramsay and Kimberly J. Ramsay. All rights reserved.
"The Japanese Animation Super Premier Entertainment Review" ,
"the J.A.S.P.E.R." and "theJASPER" logo are trademarks of David Ramsay, 1998~2006.
"theJASPER Cosplay Closet" logo and
"The Cosplay Closet: 'Where Costumes Become Anime-ted' "slogan
are ® Registered Trademarks of David Ramsay, 1999~2001.
David "Z-RAM" Ramsay and Kimberly "Hikaru-chan" J. Ramsay acknowledge the
copyright holders of materials contained herein and do not seek to infringe on their rights.
Reproduction in whole or in part without permission is prohibited.
First uploaded February 3, 2001 by: David Ramsay