Costumes and Cosplay!
Each and every costume idea is a unique project and treated differently as I decide on the goal of the costume. I will try to let you into my world of costuming, by providing information about past costumes. Hopefully, this information will explain why Kimberly and I decide to do what we do. A glimpse into our creative process. Have fun!
For images of costumes I have created for others, please visit Cosplay Closet.
Please select another destination:
---
This site visited
times since 4/11/99.
Free counters provided by Honesty Communications.

---
"Plasma", "Petri Warrior", "Sir Ferric of Lecithin", "Cyber Soldier", "Shoulders", "I.C.E.", "DewVak-1: Automated Co-Pilot", "P.A.W.: Personal Assault Weapon", "The Ramsay Institute", "Cybernetic Fiend", "Lone Worf", "Hokusai Leibowitz", "Silicon Samurai", "Good Guy", "Genome-17", "Cyber Cone", "China Doll", "Z-RAM Bytes the Dust", "Z-RAM", "Roughneck Joe", "The Hame-Kame Twins", "Mr. Squirtle", "Pika Sweet", "Ramen Rumble", "Keiko Ramen", "Getta-sneakers", "Showdown at the Poké Corral", "CPC Cheer", "CPC Cheer Boy", "CPC Cheer Girl", "The Kleen Team", "Tuxedo Kleen", "Sailor La Trine", "CPC Cheongsam", "CPC Corps", "CPC Corps Boy", "CPC Corps Girl", "CPC Commando", "CPC Commando Joe", "CPC Commando Jane", "CPC Pageant", "CPC Pageant Boy", "CPC Pageant Girl", "Mr. Kappa", "Mana Oiseau", "House of Scorpii", "Scorpii Lord" and "Scorpii Lady"
Copyright 1988~2006 David Ramsay and Kimberly J. Ramsay. All rights reserved.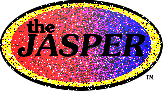 Copyright 1997~2006 David Ramsay and Kimberly J. Ramsay. All rights reserved.
"The Japanese Animation Super Premier Entertainment Review" ,
"the J.A.S.P.E.R." and "theJASPER" logo are trademarks of David Ramsay, 1998~2006.
"theJASPER Cosplay Closet" logo and
"The Cosplay Closet: 'Where Costumes Become Anime-ted' "slogan
are ® Registered Trademarks of David Ramsay, 1999~2001.
David "Z-RAM" Ramsay and Kimberly "Hikaru-chan" J. Ramsay acknowledge the
copyright holders of materials contained herein and do not seek to infringe on their rights.
Reproduction in whole or in part without permission is prohibited.
First uploaded Aug. 4, 1997 by: David Ramsay
Major Renovation September 1, 2000