CPC Cheongsam
Summer 2000
© 2000 David Ramsay
Original creation. Costume made from scratch, except for the slippers. Red satin lined purple cheongsam with three frog closures and side slits to hip. Pink trim along the entire edge of cheongsam.
Click on images for a larger view!
For AnimeExpo 2000, Kimberly and I decided to make some obnoxious costumes. We wanted the costumes to be loud and colorful. Plus, they would be of own design and not inspired from an anime series. Since purple is a color rarely used in anime, we chose a rich purple for our costumes. This would allow us to stand apart from the crowd and be identified from 100m. Kimberly always wanted a cheongsam, so I decided to make one that would match my CPC Cheer Boy uniform. She didn't want the cheongsam to look like the countless, off-the-rack ones we frequently see at conventions. After seeing a few illustrations from "G-Taste", Kimberly insisted the cheongsam be slit to the hip on both sides... sexy. We decided to use purple and red, because they are loud colors that look sharp together. The cheongsam would be completely lined, so the panels would flash bright red when Kimberly moved. Not to mention, a satin lining just feels good. Something comfortable for Kimberly to wear in the halls. By wearing different wigs and accessories, Kimberly can modify her look to suit her needs.
---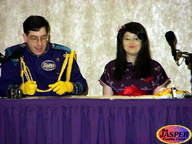 Our Cosplay panel at AnimeExpo 2000.
(Thanks to Kevin Lillard for this photo.)


A very comfortable and sexy costume.
---
Please select another destination:
---
This site visited
times since 4/11/99.
Free counters provided by Honesty Communications.

---
"CPC Cheongsam" Copyright 2000 David Ramsay and Kimberly J. Ramsay. All rights reserved.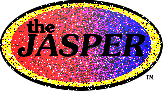 Copyright 1997~2006 David Ramsay and Kimberly J. Ramsay. All rights reserved.
"The Japanese Animation Super Premier Entertainment Review" ,
"the J.A.S.P.E.R." and "theJASPER" logo are trademarks of David Ramsay, 1998~2006.
"theJASPER Cosplay Closet" logo and
"The Cosplay Closet: 'Where Costumes Become Anime-ted' "slogan
are ® Registered Trademarks of David Ramsay, 1999~2001.
David "Z-RAM" Ramsay and Kimberly "Hikaru-chan" J. Ramsay acknowledge the
copyright holders of materials contained herein and do not seek to infringe on their rights.
Reproduction in whole or in part without permission is prohibited.