Links! Check these cool sites out!

David's Costume Gallery makes no representations whatsoever about other web sites which you may access through this one. When you access another web site, please understand that these are independent from David's Costume Gallery, and that David's Costume Gallery has no control over the content on these sites.

Official Web Sites of theJ.A.S.P.E.R.


theJASPER.com (English) Please visit our personal collections of merchandise,
from the anime: Magic Knight Rayearth, DragonBall and Pokémon.
---

The Cosplay Closet: "Where Costumes Become Anime-ted"® (English)
David and Kimberly create different and exciting costumes.
Please browse their up-scale costume galleries and cosplay reference materials.

Y2Cosplay (English) Documents costumes and cosplayers at events, such
as Anime conventions, Sci-fi & Fantasy gatherings and ethnic festivals.
Featuring the Pokétours image gallery and Saiya Sightings.

Cosplayer.org (English) David and Kimberly present their own Hall Costume Awards at Anime, Sci-fi & Fantasy conventions. This website honors the achievements of others.

Cosplay Reviews (English) Critiques of cosplay related merchandise.
Includes an adult cosplay "Pink Room" section.
---

DragonBall Z (English) Reference collection for DragonBall, DBZ and
DBGT collectibles. Featuring manga and Super Battle Figure galleries.

Hame-Kame Cosplay (English) Here, you will find an international
gallery of DragonBall cosplayers.

Magic Knight Rayearth (English) Reference collection for Magic Knight
Rayearth collectibles. Featuring dolls and UFO Catcher galleries.

CosPuu Gallery (English) Here, you will find an international gallery of
Magic Knight Rayearth cosplayers.

Pika Pika Boutique (English) Reference collection for Pokémon collec-
tibles. Featuring special galleries for Pikachu, Squirtle, Charmander,
Poliwhirl and Caterpie.

Pika Pika Cosplay (English) Here, you will find an international
gallery of Pokémon cosplayers.

Chara Dolls (English) International gallery of dolls and reference materials.

Takarazuka (English) Image gallery of Takarazuka Revue.
---
Engrish (English) Here, you will find galleries of Japanese "Engrish".
Including food, music, health/beauty products, candy and toys.
Heimlich's Leafy Depot (English) Reference collection for A Bug's
Life collectibles. Featuring everyone's favorite caterpillar, Heimlich.
Also, come meet his Japanese cousin, Caterpie.
---

TrooperPX (English) Welcome to the world's most complete Starship
Troopers reference collection. Featuring film-used props including armor
& uniforms, toys, collectibles and domestic & international publications.
Roughneck Joe© (English) Citizen Dave's custom 1/6-scale action figures, based
on the film Starship Troopers. He is also fabricating 1/6-scale props and accessories.
R:STC (English) Here, you will find complete information on the CGI
TV series Roughnecks: Starship Troopers Chronicles. Featuring production
art, screen captures and episode synopses. Includes links to other fan sites.




> > > Favorite Sites < < <
A Fan's View Of... (English) Kevin Lillard's gallery of cosplay pics. See the latest pics and read the latest info from conventions throughout the United States.
Alucart Sword (English & Japanese) Please visit Nomi Armored's costume site. Specializing in beautiful armor and outright extraordinary costumes.
Budgie-ZILLA! (English) A hilarious site about parakeets. "They Came, They Saw... They Ate."
Cosplay/Anime Costume and Masquerade Links (English) Widya Santoso's extensive cosplay links and convention info. Find links to cosplayers from around the globe here!
Cosplayers Photo Studio (Japanese) Huge cosplay image gallery. Flattering photography of cosplayers.
Eolo Testi - Doll Maker (English) Eolo Testi is an exceptional artist and doll maker. He designs museum-quality character dolls in a variety of sizes... including life-size trolls. The dolls are all hand-sewn in detailed fashions, including boned corsets and period footwear.
Japanese Engrish (English) The "MOTHER" of Japanese Engrish sites! An inspiration to us all. Steve coined the word "Engrish" back in 1996, and was the first to use it for entertainment purposes. His site has received over 220,000 hits from visitors! Steve is da MAN!!!
Kaiten-Komachi (Japanese) Check out Barbie and Kaie's costumes. Well-known for their gorgeous Sailor Moon-inspired costumes.
RaceQueen.org (English) This is an amazing site - highly recommended! Many race model, idol and cosplay links to choose from.




> > > More Cool Sites < < <
ANIMEdieval (English & French) Check out this interesting cosplay site.
Anime Web Turnpike (English) Extensive Anime links site, with anime convention directory.
Aqua Sphere (Japanese) An enormous Five Star Stories cosplay site, with many characters represented.
Ayanamido (Japanese) Shinobu Konishi's amazing Kigurumi Dolling site. Featuring Asuka Langly, Rei Ayanami and Sailor Mercury galleries.
Capsule Inc. (French) Anime and cosplay site, featuring convention coverage.
Convention Listings by Jenga (English) Sci-fi, Fantasy and Anime convention listings from all over the world.
Cosplayer Kanon's Page (Japanese) Cosplay male-model Kanon exhibits some wonderful costumes.



Cosplay Paradise (French) Nunki's cosplay site, with many pictures and convention reviews.
Cosplay Village (French) Huge cosplay site with many pictures, convention reports and more.
The Costume Page (English) Very informative site, with thousands of costuming resources online. If you are interested in Costume History, this is a good place to start.
Dark Knight (Japanese) Stunning cosplay gallery, featuring mecha, Metal Fighter and other armored creations!
David Gaxiola's Anime Resources and Info (English) A great source for Anime documents, sounds, images and links.
Disney Costume Collection (Japanese) Fantastic image gallery of Disney costume recreations for children.
Famous Personages in Japan (English) Info about famous Japanese actors, musicians and sports personalities.
EyeSuck Ink (English) Website featuring the fantastic art of Alex Pardee. Find the crazy armless "Bunnywith" here!
Feather Star (Japanese) Slick cosplay site, with many cool pics of pretty Mami.




Milieux: The Costume Site (English) An amazing site, with plenty of costume links and info. Many costume dealers and manufacturers listed. We agree it's "The Best Online Source for Costumes, Materials, Accessories, Books, Etc."
Militant Wing (English) Please visit Katy and Melissa's Gundam Wing doujinshi project, entitled "Gundam Fantasy". Both women are working very hard to get Gundam Fantasy published. Katy is a talented artist, and her original artwork of the five G-Boys is simply beautiful.
Pluto's Home Page (English & Italian) Franco's extensive Masamune Shirow site, with plenty of information and images of this prolific artist.
Real California Cheese (English) If you live in California or watch the Food Network, chances are you've seen the "happy cows" in funny commercials. Check out their official website for Real California Cheese products and yummy cheese info.
Rice Gorumet (Japanese) Everything you ever wanted to know about J-pop group Kome Kome Club (K2C) is here! A fantastic site, with plenty of information, memorabilia and photos, including a K2C Cosplay section.
Riders in the Sky (English) "America's Favorite Cowboys" official website. We checked these guys out in Torrance, and were amazed by their skills and rhinestone-encrusted costumes!
Toothpick City (English) Amazing scale replicas structures from around the world (Transamerica Pyramid, Sears Tower, Empire State Building, Eiffel Tower, Tokyo City Hall, etc.), made entirely of toothpicks!
Treen's Pigs (English) We love guinea pigs, and this website is hilarious! If you like piggie antics, visit this cool place.
T-Stone (Japanese) Official website of J-Pop performer, Tatuya Ishii. Once the front man of Kome Kome Club, Ishii records solo now. He is also a talented artist, writer, film director and costume designer. Ishii even owns a sweet shop, called TATU-YA.
Welcome to Hicksville (English) Dan Hicks is one of our favorite recording artists. We're hooked on his brillant lycrics and guitar playing. Visit the official "Walkin' One and Only" website!
Yahoo! Japan (Japanese) Miscellaneous cosplay sites directory.
Yuri's Kigurumi Paradise (English) Visit Yuri's masked cosplay gallery, with plenty of kawaii pics. Featuring Evangelion, Dirty Pair and Sailor Senshi cosplay!
Please select another destination:
---
This site visited
times since 4/11/99.
Free counters provided by Honesty Communications.

---
"Silicon Samurai", "Genome-17", "Z-RAM Bytes the Dust", "Z-RAM", "The Hame-Kame Twins", "Mr. Squirtle", "Pika Sweet", "Ramen Rumble", "Keiko Ramen", "Getta-sneakers", "CPC Cheer Boy", "The Kleen Team", "Tuxedo Kleen", "Sailor La Trine" and "CPC Cheongsam" Copyright 1992~2000 David Ramsay and Kimberly J. Ramsay.
All rights reserved.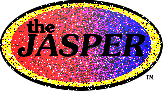 Copyright 1997~2006 David Ramsay and Kimberly J. Ramsay. All rights reserved.
"The Japanese Animation Super Premier Entertainment Review" ,
"the J.A.S.P.E.R." and "theJASPER" logo are trademarks of David Ramsay, 1998~2006.
"theJASPER Cosplay Closet" logo and
"The Cosplay Closet: 'Where Costumes Become Anime-ted' "slogan
are ® Registered Trademarks of David Ramsay, 1999~2001.
David "Z-RAM" Ramsay and Kimberly "Hikaru-chan" J. Ramsay acknowledge the
copyright holders of materials contained herein and do not seek to infringe on their rights.
Reproduction in whole or in part without permission is prohibited.