A Little Background on David

Hello, my name is David Ramsay. I have been collecting Japanese Animation for over fifteen years.
After ten years, as a Costume Artist, designing and fabricating costumes has become my profession!
Click on images for a larger view!
---
History:
I saw my first Japanese animated movie in 1984 , at Walt Whitman High School, in Bethesda, MD. I met Ms. Leslie Segal (a member of FMSSA: Future Mad Scientists and Sorcerers of America), who would sit in line all night to see movie premiers: "Indiana Jones and the Temple of Doom", "The Terminator", etc.... As a group, we went for the weekend to Balticon 19, in Baltimore, MD. In someone's hotel room, we watched the first two episodes of Robotech and some Star Blazers episodes in English (someone later told me they were originally from Japan). When we returned, Leslie showed me "Kaze No Tani No Nausicaa" - Nausicaa in the Valley of Wind. Then she showed me an art book from the movie. It had color pictures from the movie, b/w sketches of the characters and backgrounds... I had to have one! The next morning, I ran to Geppie's Comic World and bought my first "Roman Album". From there on in, I new what I had to do. I had to see it all. I had to watch as much "Japanimation" as I could get my hands on, good or bad. I had to see the entire spectrum of this incredible, diverse art form.



An early costume: Captain Harlock from "My Youth in Arcadia".
In the years since then, I have seen all of the "mecha" shows, all of the "fantasy" stories, the horror and the comedy. I have watched a series about people playing golf... All 36 episodes of SDF-1 Macross; 50 episodes of Zeta Gundam; 50 episodes of Xabulgle; 90 episodes of Maison Ikkoku; 218 episodes of Urusei Yatsura and 291 episodes of Dragon Ball Z. Take it from me, it's not just for kids.
I learned how to sew back in grade school, where we had many "art" and "home economics" classes. I was in a fortunate position, because they taught us how to knit and sew craft projects together. Because of the way they approached sewing, there was no stereotype of sewing and knitting being a "girl" thing. I like working with my hands and it was an extension from other crafts, such as woodworking and drawing. Since that time, I have always mended my own buttons and hemmed my pants. In high school, I picked up many skills from craftspeople I met at Sci-fi conventions. We would get together before and after the events, like a big family, and they would help me piecemeal and sew costumes. As I made more and more costumes, my design and patterning skills improved. Before long, I gained the confidence to design and make costumes based on my own concepts. Attending up to seven conventions a year, I would participate in costume contests and masquerades. This has become one of my favorite activities and gives me a chance to see old friends.



Klingon spoofs: "Lone Worf and Club" and "Captain K'arlock".
From 1986 to 1992, I attended Maryland Institute, College of Art (MICA) in Baltimore, MD; graduating with a BFA in General Sculptural Studies, which includes all aspects of wood, metal and fiber. I have experience in wood joining, lathe, welding (arc, MIG, TIG), foundry, ceramic shell, lost-wax, loom and off-loom weaving. When I first moved to college, I was handed-down Charlotte's 1963 tabletop Singer sewing machine. Ahhh technology... It's electric! All Hell broke loose. I could now make things from scratch, and fabricate whatever I had in my head. Since this often quite a twisted jumble of Sci-fi ideas, I developed an early knack of turning obscure, found objects into the elements I needed. The rest is history...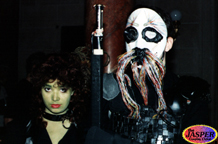 A Cybernetic Fiend for Halloween.
While at MICA, I organized a weekly showing of Japanese Animation called "Japanimation Galore". Students and faculty would attend, some even singing along with shows they knew: Speed Racer, Star Blazers, etc. During the summer of 1990, I visited Japan, and lived with a Japanese host family, in Tsurugashima (just outside Tokyo), for roughly 6 weeks. They helped me learn about Japanese culture, how to get around town and where to shop... My manga collection doubled in a matter of days! :- )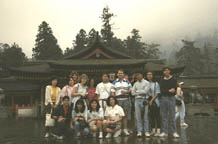 Learning about Japanese language and culture in Japan.
At MICA, I met Mr. Haisashi Hashimoto, an artist from Japan, who was invited by MICA to build a 45-foot tall wooden Fudo Myo-0 on campus, as part of a cultural exchange program. Over the next two years, students from the sculpture department helped him with the assembly and carving of this giant sculpture.
Hashimoto-san was kind to provide me with photos and sketches he made of actual samurai armor. I used these references to make an "artsy" graduation costume (while others decorated their mortarboards, I hand forged a helmet). Using microchips and keys to adorn the red leather hide, I strode proudly across the stage; accompanied by my "body guard". I met Kimberly at MICA as well.
After graduating, I moved out to the west coast. I lived in Northern California for two years, then moved to Southern California to attend the graduate program in costume design at California State University, Long Beach.
While attending Comic-Con International in 1995, I met Bear, a technician from Prop'er Effects (a prop shop located in Culver City, CA). After reviewing my portfolio, Prop'er Effects provided sewing projects for me. One of my favorite experiences was working on the production of Starship Troopers (Sony/TRI-Star, November 7, 1997). In the Spring of 1996, I helped make what would become the soldiers' armor. Later that year, I would have the fortunate opportunity to work on set, for nearly two months. Many weeks were spent in 100-degree heat assigning, fitting and repairing the soldiers' armor. My "grunt work" would continue onto the Sony lot. Here they filmed some final interior scenes for the Rodger Young, etc.. Unfortunately, working for a prop shop means only the shop gets credit. There were alot of people that lended their wonderful talents to this film, that will never get proper credit. But I have fond memories of this experience and even created a website (TrooperPX) to showcase my passionate collecting of all things Starship Troopers. The limited number of toys based on the film, led to my work on a detailed replica of a M.I. Trooper action figure, "Roughneck Joe". A few were made for friends and some sold internationally to collectors.
My next and most ambitious costume, one I had been planning for months, was Z-RAM using found objects and materials I had collected over the years. With Kimberly, by my side, as Hikaru Shidou from Magic Knight Rayearth, we took the 1997 AnimeExpo and Comic-Con International by storm, winning "Best of Show" at both conventions! This was a very special moment for us, since we were the first anime entry to win a major award at Comic-Con International. Z-RAM has been my largest, most cumbersome and literally "hottest" costume to date! Z-RAM has appeared on national television, local cable and reviewed with photos, in foreign and domestic publications.


"The Hame-Kame Twins" to the rescue!
If you have visited theJ.A.S.P.E.R., you will know I enjoy collecting DragonBall World merchandise. I made fun costumes from the DragonBall Z series that had not been made before in the US. "The Hame-Kame Twins" (a.k.a. Great Saiyaman & Great Saiyaman 2) were very comfortable and low maintenance, compared to Z-RAM. We could dance and perform the "Five Man Poses" with ease! These costumes were also well-received by anime and non-anime fans since DBZ has become mainstream in the US.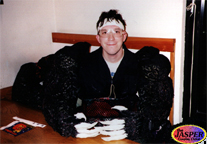 Relaxing at my favorite Japanese Restaurant, Teishokuya...
My goal as a Costume Artist, is to design and fabricate costumes for others. To provide the joy and satisfaction that wearing a fantasy costume can bring! Please visit my up-scale costuming business, the Cosplay Closet. Even though I run a business making costumes for others, I am still a fan of anime who enjoys making costumes for myself to wear. Kimberly and I enjoy performing in costume at every opportunity, however, we no longer compete at anime conventions. Our goal at these venues is to entertain and put on a good show for the audience. We try to encourage other costumers to succeed and be creative, through our costuming tips, panels and workshops.
Favorite Anime:
Kaze no Tani no Nausicaa, My Youth in Arcadia, Arrivederci Yamato, Macross '84, Mobile Suit Gundam (Any), Wings of Honneamise, Akira (Japanese Version), Hokuto No Ken, Dragon Ball, Black Magic M-66, Ghost in the Shell, Memories, Blue Submarine No.6, Oruchuban-Ebichu... (A good place to start)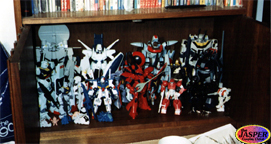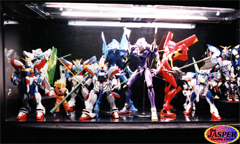 Some of my prized collectibles. A 55-gallon acrylic shrine for my favorite models and toys.


My antique samurai armor and wall scroll.
Foods I Like:
Cheeseburgers, chocolate shakes, Pocky, ChocoBall, tonkatsu-curry-rice, Mountain Dew and preservatives in general... and many yummy things you can find on our Engrish site.


Con preparedness is VERY important...
---
Please select another destination:
---
This site visited
times since 4/11/99.
Free counters provided by Honesty Communications.

---
"Plasma", "Petri Warrior", "Sir Ferric of Lecithin", "Cyber Soldier", "I.C.E.", "Rasta-Andy", "P.A.W.: Personal Assault Weapon", "The Ramsay Institute", "Cybernetic Fiend", "Lone Worf", "Silicon Samurai", "Genome-17", "Z-RAM Bytes the Dust", "Z-RAM", "Roughneck Joe", "The Hame-Kame Twins", "Mr. Squirtle", "Getta-sneakers", "CPC Cheer Boy" and "Tuxedo Kleen" Copyright 1988~2006 David Ramsay and Kimberly J. Ramsay. All rights reserved.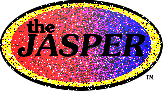 Copyright 1997~2006 David Ramsay and Kimberly J. Ramsay. All rights reserved.
"The Japanese Animation Super Premier Entertainment Review" ,
"the J.A.S.P.E.R." and "theJASPER" logo are trademarks of David Ramsay, 1998~2006.
"theJASPER Cosplay Closet" logo and
"The Cosplay Closet: 'Where Costumes Become Anime-ted' "slogan
are ® Registered Trademarks of David Ramsay, 1999~2001.
David "Z-RAM" Ramsay and Kimberly "Hikaru-chan" J. Ramsay acknowledge the
copyright holders of materials contained herein and do not seek to infringe on their rights.
Reproduction in whole or in part without permission is prohibited.