A Little Background on Kimberly
Click on images for a larger view!

Hello. My name is Kimberly. I enjoyed "dressing up" at a very young age. My family encouraged me to pursue a career in the arts. I attended Maryland Institute, College of Art (MICA), where I met David Ramsay. He introduced me to the wonderful and addictive world of anime.


With Fudo Myo-O's blessing...
For over nine years, I have collected anime, manga, toys, dolls and other treasures from Japan. I love Magic Knight Rayearth, and Hikaru Shidou is one of my favorite anime heroines. Later, I graduated in Art History from California State University, Long Beach. David and I are passionate cosplayers, who enjoy attending anime conventions and other events (e.g. ethnic festivals and parades) in costume. We work together as a cosplay team: David designs and fabricates all the costumes, while I assist in the planning and conceptual areas. We both share an unusual sense of humor, and love coming up with crazy ideas for our public performances. David and I like "to push the envelope" with our innovative and high-quality costumes. We are obsessed anime fans who took our cosplay to new heights with the formation of our costuming business. Serving the cosplay community since March 1999, the Cosplay Closet provides up-scale costumes inspired by anime, manga and game characters to fans throughout the United States and overseas. Here is more information about myself...
Favorite Anime.
Cutey Honey, Dirty Pair, Gatchaman, Gundam F91, Gundam 0083, Iczer 1, Lupin the 3rd, Macross '84, Macross Plus, Magic Knight Rayearth, Memories, My Neighbor Totoro, Oruchuban-Ebichu, Project A-Ko, Shamanic Princess, X... (Too many to list!)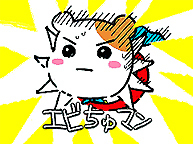 Super Hamstar Ebichuman to the rescue!
Foods I Like.
Curry, Italian cold-cut sub, pineapple, spiedies, strawberries, sweet potatoes and tempura... and many yummy things you can find on our Engrish site.



Some of my many unusual personas...


Including a "Noodle Defender".


Enter here to visit Kimberly's tribute to her parakeet companions.
Includes parakeet images, collectibles and links!
---
Please select another destination:
---
This site visited
times since 4/11/99.
Free counters provided by Honesty Communications.

---
"China Doll", "Pika Sweet", "Keiko Ramen", "CPC Cheer Girl", "Sailor La Trine", "Lee van Squirt" and "CPC Cheongsam" Copyright 1993~2002 David Ramsay and Kimberly J. Ramsay. All rights reserved.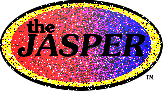 Copyright 1997~2006 David Ramsay and Kimberly J. Ramsay. All rights reserved.
"The Japanese Animation Super Premier Entertainment Review" ,
"the J.A.S.P.E.R." and "theJASPER" logo are trademarks of David Ramsay, 1998~2006.
"theJASPER Cosplay Closet" logo and
"The Cosplay Closet: 'Where Costumes Become Anime-ted' "slogan
are ® Registered Trademarks of David Ramsay, 1999~2001.
David "Z-RAM" Ramsay and Kimberly "Hikaru-chan" J. Ramsay acknowledge the
copyright holders of materials contained herein and do not seek to infringe on their rights.
Reproduction in whole or in part without permission is prohibited.