Hokusai Leibowitz

Summer 1992

© 1992 David Ramsay

Original creation with piecemealed components. Helmet-Cam: Recycled helicopter helmet, painted, with Letraset lenses attached to surface. Rewired earphones to amplified microphone on top of helmet. Modified Vietnam-style flak vest, hand-painted. Cyber-Cam: Gutted 1980's Panasonic video camera, rewired for miscellaneous flashing lights and strobes.

Click on images for a larger view!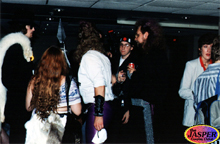 Cyberpunk LARP at CastleCon 1992.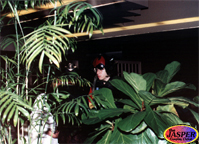 Hokusai listening for clues in the jungle...
Hokusai Leibowitz was a character I created for a cyberpunk LARP called "Northstar One", at CastleCon 1992. Son of a Japanese Sushi & Bagle Shop owner (...with a secret karaoke bar in the basement). My character worked for a news agency, "Shogagakan-EMI", and used his state-of-the-art cameras to infiltrate and expose corrupt businesses. Unfortunately, Hokusai Leibowitz met his untimely demise via a cortex bomb that was mysteriously implanted at the time of his employment... by the LARP officials.
---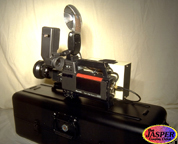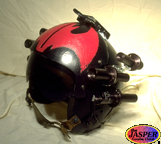 Hokusai's equipment: Cyber-Cam and Helmet-Cam.
Helmet-Cam: Recycled helicopter helmet, painted, with Letraset lenses attached to surface. The concept was a future reporter could have "eyes in the back of his head". This being accomplished through wide angle and telephoto lenses mounted facing forward and backward. Back in 1989, the smallest video cameras were a feather-light eight pounds. However, my "cameras" fit in the palm of your hand. Cameras "this small" were surely a future-tek idea. Includes a stereo microphone mounted to the top of the helmet. I rewired the speakers into the helmet's existing earphones. This allowed me to have stereo perception in this restrictive and heavy helmet.
---
Please select another destination:
---
This site visited
times since 4/11/99.
Free counters provided by Honesty Communications.

---
"Hokusai Leibowitz", "Cyber-Cam" and "Helmet-Cam" Copyright 1989-1992 David Ramsay. All rights reserved.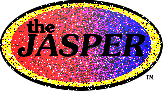 Copyright 1997~2006 David Ramsay. All rights reserved.
"The Japanese Animation Super Premier Entertainment Review" ,
"the J.A.S.P.E.R." and "theJASPER" logo are trademarks of David Ramsay, 1998~2006.
"theJASPER Cosplay Closet" logo and
"The Cosplay Closet: 'Where Costumes Become Anime-ted' "slogan
are ® Registered Trademarks of David Ramsay, 1999~2001.
David "Z-RAM" Ramsay and Kimberly "Hikaru-chan" J. Ramsay acknowledge the
copyright holders of materials contained herein and do not seek to infringe on their rights.
Reproduction in whole or in part without permission is prohibited.