Shoulders
Fall 1990
© 1990 David Ramsay
Original creation with piecemealed components. Full-length, hand-dyed cloak with biohazard mon. Head-molded helmet with green welder's visor. Shoulder armor consists of an aluminum wire frame, covered with cheesecloth and stiffened with shellac. Varnished, with red appliqué over top edge. Two-layered robe with gathered sleeves. Prop "shock prod" constructed of found objects, including a video camera "tube" and industrial capacitors.
Click on images for a larger view!


On stage at EveCon 1991.
Another class project that developed into something bigger. It started out as a dyeing exercise that turned into a whole costume. I was inspired by Mamoru Nagano's "Five Star Stories", specifically the Mirage Knights in their menacing cloaks. The goal was to alter my silhouette through the use of layered fabrics. The cloak hides all suggestions of what lies underneath. One could not easily identify or anticipate the form that would emerge from under the cloak. Unfortunately, I got tangled up in the cloak while trying to remove it. I needed the assistance of a stage ninja when I could no longer move on stage. It went from an elegant display to farce in less than 30 seconds.
---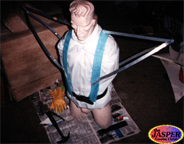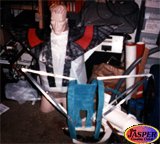 Shoulders production: square aluminum rod mounted to fiberglass harness.
---
Please select another destination:
---
This site visited
times since 4/11/99.
Free counters provided by Honesty Communications.

---
"Shoulders" Copyright 1990 David Ramsay. All rights reserved.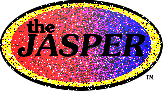 Copyright 1997~2006 David Ramsay. All rights reserved.
"The Japanese Animation Super Premier Entertainment Review" ,
"the J.A.S.P.E.R." and "theJASPER" logo are trademarks of David Ramsay, 1998~2006.
"theJASPER Cosplay Closet" logo and
"The Cosplay Closet: 'Where Costumes Become Anime-ted' "slogan
are ® Registered Trademarks of David Ramsay, 1999~2001.
David "Z-RAM" Ramsay and Kimberly "Hikaru-chan" J. Ramsay acknowledge the
copyright holders of materials contained herein and do not seek to infringe on their rights.
Reproduction in whole or in part without permission is prohibited.