Sailor La Trine
(Gallery One)

Summer 2000

© 2000 David Ramsay

Original creation. The Sailor La Trine costume consists of a lycra & rubber dress, collar, bows, choker, frilly satin apron, rubber gloves & boots - accented with lemons throughout. Her pretty toilet seat paper collar is trimmed in blue. Notice the golden lemon squeezer accenting La Trine's front bow. There is a paper towel dispenser attached to her back, for easy pickups. Sailor La Trine's main prop is the "Lemon Rhapsody Scrub Brush", while she also carries a "Loki Plunge" (mini plunger) and "Lemon Bombs" on the sides of her costume. The "Lemon Rhapsody Scrub Brush" is basically two toilet brushes combined to form the heart shape, painted gold with lemon and glitter accents. Her enormous yellow wig has two lemon ondangos, with cascading yellow tails in front. None of the fifteen lemons used were harmed during the construction of this costume.

Click on images for a larger view!



We drew our inspiration from many sources.
(Text © Copyright David Ramsay and Kimberly Johnson)
For Comic-Con International 2000, Kimberly and I decided to make some "lemony fresh" costumes. From the rings of Tilex, the saga continues... "The Kleen Team" took it's inspiration from a variety of sources: Pretty Soldier Sailor Moon, 50s sentimentality, George Michael's "Outside" music video, "The Hamster Dance" and lemons - to name a few. We planned our performance to be funny, adult-natured and crude; to be performed around a mock bathroom, complete with urinal and swing-door stall. A literal spoof of "squeaky clean" super heroes, who just so happen to clean toilets and prevent the spread of diseases in public restrooms everywhere. A very popular song from the Sailor Moon Musicals "La Soldier", was the inspiration for Kimberly's character: "Sailor La Trine". My character was inspired from the mysterious "Tuxedo Mask" - but "Tuxedo Kleen" had a better ring to it. Sounds wacky enough? We hoped those familiar with George Michael's embarrassing run-in with the law, for being "lewd" in a public restroom, would appreciate our disco elements and bathroom humor.
---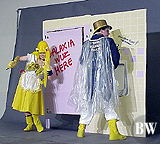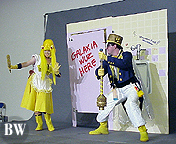 A little "tinkle" after the performance...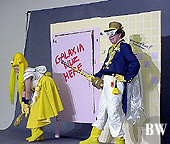 Succumb to the power of Thor's Plunger!
(Thanks to Bryan K. Williams for these photos.)


"Lemon Swishua Power!"



Award-winning "Grime Fighters".



Our homemade bathroom "environment", complete working stall door...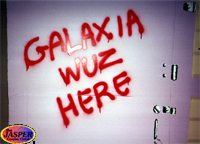 ... and graffiti.
---
This was an interesting "convention summer" for us. We no longer compete at anime conventions. It was a decision we made last year, in the Fall of 1999. Regardless whether or not an award would be offered, we no longer feel the need to compete at anime conventions. We have nothing further to prove to the American cosplay community. Kimberly and I thought it was the right thing to do, since we have little, if any, competition that meets or exceeds our skill level. If people consider this honest opinion uppity or arrogant, so be it. I have been costuming for over fifteen years, and to force newbies or the less experienced to compete against me is unfair to all. I no longer wanted to win "by default". Others do not seem to have a problem with this, but that is their moral decision. This year we attended AnimeExpo and Otakon, exhibiting our costumes in the halls where we believe a costumer can receive more attention. Comic-Con International (CCI) welcomes costumers from all genres and different skill levels, including professionals. For years, we have attended CCI and feel comfortable participating at their Masquerades, in this open competition. CCI is a traditional Sci-fi/Western comic book convention at heart. There has always been a token appearance of anime at their Masquerades. However, we noticed in 1998 (the year after we won "Best of Show", and four of the nine industry awards, with our "Z-RAM Bytes the Dust" performance), there was a flood of anime-inspired contestants. Suddenly CCI opened up to anime and it is now the trendy non-anime convention to cosplay at. Our "Kleen Team" costumes and burlesque performance was created especially for CCI. While retaining an anime "look", we knew the audience would be more accepting and would "get" the majority of our subtle jokes and double entendre.
---


Lemonheads: Not just a good idea, it's the LAW...
For more Juice:
---
Please select another destination:
---
This site visited
times since 4/11/99.
Free counters provided by Honesty Communications.

---
"Kleen Team", "Tuxedo Kleen" and "Sailor La Trine" Copyright 2000 David Ramsay and Kimberly J. Ramsay.
All rights reserved.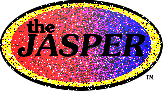 Copyright 1997~2006 David Ramsay and Kimberly J. Ramsay. All rights reserved.
"The Japanese Animation Super Premier Entertainment Review" ,
"the J.A.S.P.E.R." and "theJASPER" logo are trademarks of David Ramsay, 1998~2006.
"theJASPER Cosplay Closet" logo and
"The Cosplay Closet: 'Where Costumes Become Anime-ted' "slogan
are ® Registered Trademarks of David Ramsay, 1999~2001.
David "Z-RAM" Ramsay and Kimberly "Hikaru-chan" J. Ramsay acknowledge the
copyright holders of materials contained herein and do not seek to infringe on their rights.
Reproduction in whole or in part without permission is prohibited.