Sailor La Trine
(Gallery Two)

Summer 2000

© 2000 David Ramsay

Original creation. The Sailor La Trine costume consists of a lycra & rubber dress, collar, bows, choker, frilly satin apron, rubber gloves & boots - accented with lemons throughout. Her pretty toilet seat paper collar is trimmed in blue. Notice the golden lemon squeezer accenting La Trine's front bow. There is a paper towel dispenser attached to her back, for easy pickups. Sailor La Trine's main prop is the "Lemon Rhapsody Scrub Brush", while she also carries a "Loki Plunge" (mini plunger) and "Lemon Bombs" on the sides of her costume. The "Lemon Rhapsody Scrub Brush" is basically two toilet brushes combined to form the heart shape, painted gold with lemon and glitter accents. Her enormous yellow wig has two lemon ondangos, with cascading yellow tails in front. None of the fifteen lemons used were harmed during the construction of this costume.

Click on images for a larger view!



We drew our inspiration from many sources.
(Text © Copyright David Ramsay and Kimberly Johnson)
---
More Info...
We thought our anime-inspired spoof would fit right in the Pasadena Doo Dah Parade. We were right! Kimberly and I were very excited about participating in "the other parade", and wanted anime fandom to be represented this year. The Kleen Team was the first Sailor Moon-inspired, or for that matter, the first anime-inspired entry in the history of the Doo Dah Parade. It was great to hear little kids and adults shouting "Sailor Moon" during the parade. We would like to personally thank Mr. Mark Rappaport and The California Chariot Company for generously providing TWO Grand Chariots to glide us along the parade route. The Grand Chariots were easy to maneuver (even around flying tortillas and the occasional pineapple) and lots of fun for the "big kids". A very special thanks goes out to Paddy and other members of The Light Bringer Project for allowing us to participate at the Doo Dah Parade this year. Everyone from Light Bringer has been polite, friendly and informative. In our conversations with them, we got the clear impression they are just downright good and courteous people to everyone - making sure everyone's needs were cared for. Light Bringer even wanted us to bring our infamous bathroom "environment", and provided volunteers to carry it during the parade. Tuxedo Kleen could take "pee breaks" along the way... Yay! We look forward to participating next year. Thanks to everyone involved for making the Doo Dah Parade a positive experience!
For more information about the Doo Dah Parade, please click HERE.
---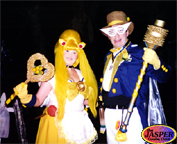 The Kleen Team at the Doo Dah Queen Tryouts.


Cleaning up at the Light Bringer Gallery.



Mugging for the camera with friendly Gayle.
Popular news anchor Gayle Anderson from KTLA Channel-5, promotes the
Doo Dah event LIVE from the Light Bringer Gallery in Old Pasadena.


Apply gentle pressure for the desired effect...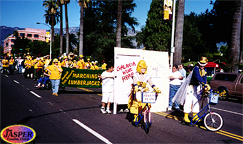 The Kleen Team at the 24th Annual Pasadena Doo Dah Parade.
It was a beautiful day to glide on Grand Chariots!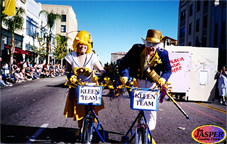 Make way for The Kleen Team!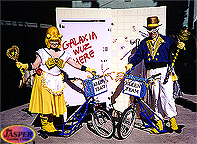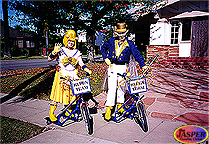 Taking the Chariots out for a spin!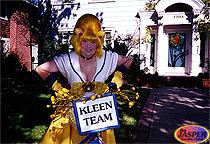 A lemony fresh morning!
For more Juice:
---
Please select another destination:
---
This site visited
times since 4/11/99.
Free counters provided by Honesty Communications.

---
"Kleen Team", "Tuxedo Kleen" and "Sailor La Trine" Copyright 2000 David Ramsay and Kimberly J. Ramsay.
All rights reserved.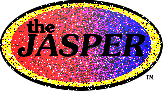 Copyright 1997~2006 David Ramsay and Kimberly J. Ramsay. All rights reserved.
"The Japanese Animation Super Premier Entertainment Review" ,
"the J.A.S.P.E.R." and "theJASPER" logo are trademarks of David Ramsay, 1998~2006.
"theJASPER Cosplay Closet" logo and
"The Cosplay Closet: 'Where Costumes Become Anime-ted' "slogan
are ® Registered Trademarks of David Ramsay, 1999~2001.
David "Z-RAM" Ramsay and Kimberly "Hikaru-chan" J. Ramsay acknowledge the
copyright holders of materials contained herein and do not seek to infringe on their rights.
Reproduction in whole or in part without permission is prohibited.