After wearing the cumbersome Z-RAM costume, I decided to make lightweight and comfortable costumes for the next convention. I have enjoyed collecting DragonBall World merchandise for many years, and Son Gohan is one of my favorite characters. I had seen Great Saiyaman (Son Gohan's secret identity) cosplayed quite often at US conventions, always with a white turban and sunglasses. I even checked the internet for international cosplayers portraying Great Saiyaman. Not once did I see a Great Saiyaman cosplayer from the TV episodes, wearing a helmet. If I were to do a Great Saiyaman costume, this would be version I would do - a version that had not been done before. The helmet turned out to be a challenge, and I could now understand why no one had attempted it before. This only made me more determined than ever to pull it off. Since Great Saiyaman has a crime fighting partner, Great Saiyaman 2, I designed costumes for both of us - utilizing visual elements from both the DBZ TV episodes and DBZ OAV #13. We decided to call our skit, "The Hame-Kame Twins," for a few reasons. Reason 1: Poking fun at "kame-hame-ha," one of the trademark attacks by Son Gokou. We inverted the term to "Hame-Kame" for fun. Reason 2: Our costumes have basically the same parts and silhouette, resembling twins. Reason 3: The skit was us moving together in a synchronized fashion to music, thus another reference to twins. Reason 4: Far more interesting title than "Great Saiyaman and Great Saiyaman 2."
---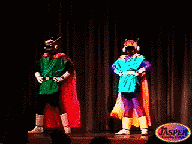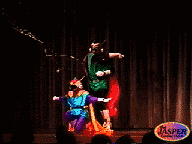 "The Hame-Kame Twins" performance at AnimeExpo 1998.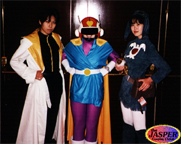 Great Saiyaman 2 with Japanese cosplayers!



More Saiyaman antics at AnimeExpo 1998.




Partners in Crime Fighting! At Comic-Con International 1998.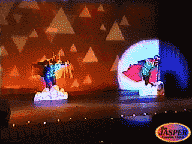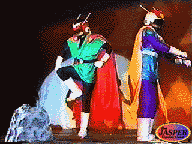 "The Hame-Kame Twins" performance at Comic-Con International 1998.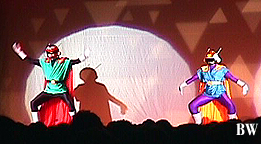 Striking their infamous "Five-Man" poses...
(Thanks to Bryan K. Williams for this photo.)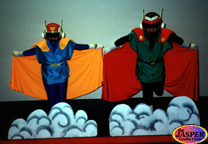 Flying high above Satan City! Look! It's a bird... it's a plane...


Great Saiyaman 2 and Didi, a Masquerade fan!
For more Great Saiyaman 2:
---
Please select another destination:
---
This site visited
times since 4/11/99.
Free counters provided by Honesty Communications.

---
"The Hame-Kame Twins" Copyright 1998 David Ramsay and Kimberly J. Ramsay. All rights reserved.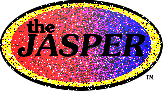 Copyright 1997~2006 David Ramsay and Kimberly J. Ramsay. All rights reserved.
"The Japanese Animation Super Premier Entertainment Review" ,
"the J.A.S.P.E.R." and "theJASPER" logo are trademarks of David Ramsay, 1998~2006.
"theJASPER Cosplay Closet" logo and
"The Cosplay Closet: 'Where Costumes Become Anime-ted' "slogan
are ® Registered Trademarks of David Ramsay, 1999~2001.
David "Z-RAM" Ramsay and Kimberly "Hikaru-chan" J. Ramsay acknowledge the
copyright holders of materials contained herein and do not seek to infringe on their rights.
Reproduction in whole or in part without permission is prohibited.