For AnimeExpo 2000, Kimberly and I decided to make some obnoxious costumes. We wanted the costumes to be loud and colorful. Plus, they would be of own design and not inspired from an anime series. Since purple is a color rarely used in anime, we chose a rich purple for our costumes. This would allow us to stand apart from the crowd and be identified from 100m. After browsing a few cheerleader and marching band websites, we agreed that matching uniforms were the way to go. Instead of following the conventional band uniform colors of purple/gold/white, we "kicked it up a notch" by using purple/teal/yellow with a dash of cotton candy pink on Kimberly's uniform. We stopped by a local marching band supplier, Peacock's Marching World, in Anaheim, for custom citation cords and a real Shako hat. The original Shako hat needed to be painted purple and adorned with sequin ribbon trim to match my uniform. We contacted our theater associate David Larson for a few custom embroidered patches. Something comfortable to wear in the halls, that would advertise our services and live up to the "shameless self-promotion" rap we have been accused of. Funny, most of our critics did not "get it". We guess that original, non-anime or unfamiliar costumes go over some people's heads... Good.
---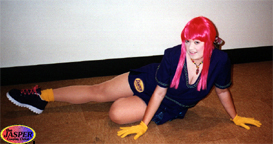 Kimberly and David wearing costumes from their new OAV due out this Fall:
"Cosplay Closet's Shameless Self-Promotion and You".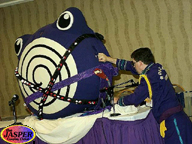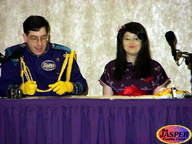 Setting up in Live Programming 3: Our Cosplay panel at AnimeExpo 2000.
(Thanks to Kevin Lillard for these photos.)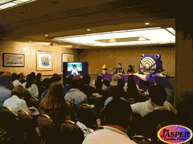 Thanks for attending our panel at AX.
(Thanks to Linus Lam for this photo.)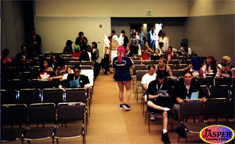 People arriving early to the "Cosplay in America" panel at Otakon 2000.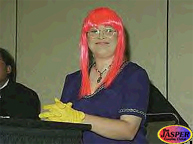 Some candid shot at the "Cosplay in America" panel.
L/R: David Ramsay, Heather McCullom, Stephanie A. Brown and Kimberly Johnson.
(Thanks to Kevin Lillard for these photos.)
---
Please select another destination:
---
This site visited
times since 4/11/99.
Free counters provided by Honesty Communications.

---
"CPC Cheer", "CPC Cheer Boy" and "CPC Cheer Girl" Copyright 2000 David Ramsay and Kimberly J. Ramsay.
All rights reserved.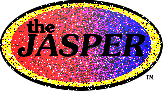 Copyright 1997~2006 David Ramsay and Kimberly J. Ramsay. All rights reserved.
"The Japanese Animation Super Premier Entertainment Review" ,
"the J.A.S.P.E.R." and "theJASPER" logo are trademarks of David Ramsay, 1998~2006.
"theJASPER Cosplay Closet" logo and
"The Cosplay Closet: 'Where Costumes Become Anime-ted' "slogan
are ® Registered Trademarks of David Ramsay, 1999~2001.
David "Z-RAM" Ramsay and Kimberly "Hikaru-chan" J. Ramsay acknowledge the
copyright holders of materials contained herein and do not seek to infringe on their rights.
Reproduction in whole or in part without permission is prohibited.