Cyber Cone

Fall 1993

© 1993 David Ramsay

Original creation with piecemealed components. Modified rubber "conehead" adorned with microchips, puffy paint and functional, blinking LEDs. Tyvek suit.

Click on images for a larger view!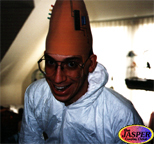 Haaaaaa cha-cha-cha!
My Halloween costume. Since I worked at the good guys!, the costume had to reflect my daily interaction with all forms of modern audio and video technology. So "Cyber Cone" was created. I was very busy working in Customer Service, so the costume needed to accommodate a warehouse environment. After purchasing a Tyvek suit from Lab Safety, I modified a rubber "conehead" by wiring a series of LEDs to a timing board and mounting them from the inside. Polyfill kept the cone stiff as I worked about.
---



Halloween 1993, Maggie cops a feel.
---
Please select another destination:
---
This site visited
times since 4/11/99.
Free counters provided by Honesty Communications.

---
"Cyber Cone" Copyright 1993 David Ramsay. All rights reserved.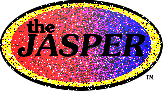 Copyright 1997~2006 David Ramsay. All rights reserved.
"The Japanese Animation Super Premier Entertainment Review" ,
"the J.A.S.P.E.R." and "theJASPER" logo are trademarks of David Ramsay, 1998~2006.
"theJASPER Cosplay Closet" logo and
"The Cosplay Closet: 'Where Costumes Become Anime-ted' "slogan
are ® Registered Trademarks of David Ramsay, 1999~2001.
David "Z-RAM" Ramsay and Kimberly "Hikaru-chan" J. Ramsay acknowledge the
copyright holders of materials contained herein and do not seek to infringe on their rights.
Reproduction in whole or in part without permission is prohibited.