©1993 David Ramsay
Original creation. Black 1-ounce leather hand-laced to styrene plates and other found objects to form body armor. Neoprene wet-suit modified to serve as armature; armored sections attached with 3/4-inch side squeeze clips. Rayon drape. Helmet contains two fans in neck area, with an on/off switch; two camcorder lights mounted to top, focused to a distance of 15-feet with momentary switch in glove. Battery packs designed into the back armor. Prop P.A.W. ("Tornado") and knife made from found objects. This P.A.W. contains CO2 effects.
Click on images for a larger view!




See Genome-17 on the cover of this Spoof Magazine!
Kimberly and I literally skinned a black leather couch left in the alley, one summer evening. After skinning the couch, we restored the original luster by rubbing it repeatedly with mink oil (over a weeks time). Once the leather absorbed the oil, it was again soft and supple. This leather was stretched and hand laced to styrene plates and other found objects, including mixing bowls. The armor was very time consuming to make, however, I was very pleased with the results. The large black 8-barreled, snail drum, rotary "gauss" assault rifle ("Tornado") was made from PVC tubing, a cookie tin, refrigerator door handle and vacuum cleaner parts. Kimberly and I planned to attend our first anime convention, AnimeExpo 1993, in costume. Since Genome-17 was not from "anime", we guess unfamiliar costumes go over some people's heads. To further complicate matters, the lights were turned off during my walk-through at the AX93 Masquerade, so no one could actually see Genome-17 and the effort put into this combat clone (except of course the bright camcorder lights shinning back at the audience).
---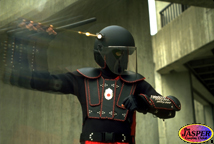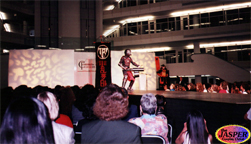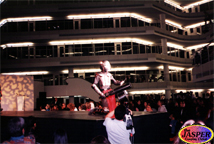 Genome-17 enters The Fashion Careers Symposium, 1993.


AnimeExpo 1993, moments before being left in the dark at the Masquerade.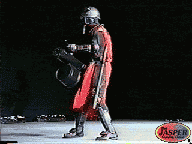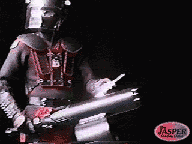 Genome-17 presentation at ConFrancisco.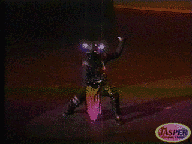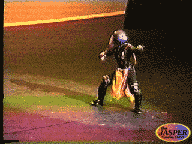 Genome-17 (modeled by my friend, Atsushi Kamioka) presentation at San Diego Comic-Con 1995.



Genome-17 appearing at AnimeExpo 1997.
---
Please select another destination:
---
This site visited
times since 4/11/99.
Free counters provided by Honesty Communications.

---
"Genome-17: Combat Clone for The Ramsay Institute" Copyright 1993 David Ramsay. All rights reserved.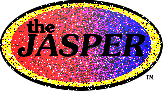 Copyright 1997~2006 David Ramsay. All rights reserved.
"The Japanese Animation Super Premier Entertainment Review" ,
"the J.A.S.P.E.R." and "theJASPER" logo are trademarks of David Ramsay, 1998~2006.
"theJASPER Cosplay Closet" logo and
"The Cosplay Closet: 'Where Costumes Become Anime-ted' "slogan
are ® Registered Trademarks of David Ramsay, 1999~2001.
David "Z-RAM" Ramsay and Kimberly "Hikaru-chan" J. Ramsay acknowledge the
copyright holders of materials contained herein and do not seek to infringe on their rights.
Reproduction in whole or in part without permission is prohibited.