Lone Worf
Spring 1992
© 1992 David Ramsay
Original creation with piecemealed components. Modified black Army trenchcoat, with strips of gray vinyl sewn to the surface. Purchased hakama. Hand-stitched leather Klingon skull cap with synthetic hair and eyebrows.
Click on images for a larger view!
This Klingon-spoof costume was designed for a presentation entitled, "Lone Worf and Club". After chugging a carton of milk, my chest would inflate with CO2. Then the MC (Marty Gear) read: "Milk, it does a Klingon BETTER.." Okay, maybe not the best skit I ever conceived but people laughed. At the time, I was more concerned about designing a realistic-looking Klingon head. Since the majority of Klingon heads back then resembled chocolate-dipped rubber crabs, I made mine from leather. Soaking the leather in boiling water and carefully shaping it. The forehead ridges were hand-stitched into overlapping wrinkles. I darkened the leather using vegetable dyes, in an attempt to make it flesh-colored. Unfortunately, the leather was much lighter than my natural skin color and I didn't want to sweat under layers of make-up. The judges didn't seem to mind, and were impressed with my leatherwork.
---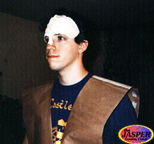 Prototyping the Klingon skull cap.
---
Please select another destination:
---
This site visited
times since 4/11/99.
Free counters provided by Honesty Communications.

---
"Lone Worf and Club" Copyright 1992 David Ramsay. All rights reserved.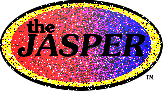 Copyright 1997~2006 David Ramsay. All rights reserved.
"The Japanese Animation Super Premier Entertainment Review" ,
"the J.A.S.P.E.R." and "theJASPER" logo are trademarks of David Ramsay, 1998~2006.
"theJASPER Cosplay Closet" logo and
"The Cosplay Closet: 'Where Costumes Become Anime-ted' "slogan
are ® Registered Trademarks of David Ramsay, 1999~2001.
David "Z-RAM" Ramsay and Kimberly "Hikaru-chan" J. Ramsay acknowledge the
copyright holders of materials contained herein and do not seek to infringe on their rights.
Reproduction in whole or in part without permission is prohibited.