Mana Oiseau
(Gallery One)

Summer 2001

© 2001 David Ramsay & Kimberly Johnson

Original creation. The Mana Oiseasu costume consists of piecemeal garments that were distressed and hand-sewn to one another. Parts from a total of four separate garments were used to make Mana Oiseau. "Mushroom" birds, silk flowers and feathers were attached to the surface. Accessories include a felt hat, jewelry, gloves and platform shoes.

Click on images for a larger view!




Mana Oiseau was a fun distressing project.



Plenty of details throughout this costume.
Try to find all the little birds on the costume...
For AnimeExpo 2001, Kimberly wanted to a wear a distressed costume. One rarely sees distressed or deliberately aged costumes at anime conventions. For our "Variety is a Spice of the Cosplay Closet" panel, we wanted to talk about distressing garments. Inspired by the J-Rock group Malice Mizer, Kimberly decided to make a variant costume of Mana. Something truly unique... that would stand out amongst the numerous Mana cosplayers. She didn't want to recreate a costume that had been done before, like the Mana Moth/Butterfly. Also, Kimberly didn't want the fabrics to look shiny like vinyl, or "clean edged". Instead, she designed a Mana costume with an avian theme that looks worn and old. The emphasis was placed on texture, so Kimberly layered and attached different garments and materials together to create an unusual effect.

After raiding her closet and finding a ratty evening gown at a thrift store, Kimberly distressed the garments using a variety of techniques. For example, she used a wire file brush to fuzz up the surface of the tie-dye shirt that was attached to the blue dress. Kimberly wanted to make the texture on the tie-dye shirt resemble down on a bird's body. The wire file brush was also used to roughen the hem of the blue dress. Kimberly then slashed the sleeves of the blue dress. She cut a skirt in half and attached the pieces to her sleeves to make wings. Nu-Life Color Spray was used to stain the costume, to make it look old and dirty. The "mushroom" birds, silk flowers and feathers were attached to the costume at the very end.
---


Hello, Mr. Crow...


A cup of tea, dear?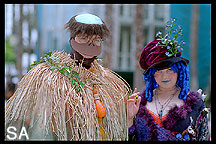 Beautiful photographs by Sherwin "Wuken" Abesami.
For more sugar:
---
Please select another destination:
---
This site visited
times since 4/11/99.
Free counters provided by Honesty Communications.

---
"Mana Oiseau" and "Mr. Kappa" Copyright 2001 David Ramsay and Kimberly J. Ramsay. All rights reserved.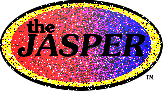 Copyright 1997~2006 David Ramsay and Kimberly J. Ramsay. All rights reserved.
"The Japanese Animation Super Premier Entertainment Review" ,
"the J.A.S.P.E.R." and "theJASPER" logo are trademarks of David Ramsay, 1998~2006.
"theJASPER Cosplay Closet" logo and
"The Cosplay Closet: 'Where Costumes Become Anime-ted' "slogan
are ® Registered Trademarks of David Ramsay, 1999~2001.
David "Z-RAM" Ramsay and Kimberly "Hikaru-chan" J. Ramsay acknowledge the
copyright holders of materials contained herein and do not seek to infringe on their rights.
Reproduction in whole or in part without permission is prohibited.