© 1999 David Ramsay
Original creations inspired Go Nagai's "Keiko Ramen" series and Kikkoman "Restaurant Style" Soy Sauce. First off, "Ramen Rumble" is a food wrestling, battle of the sexes spoof. A "what if..." scenario: Kikko-Man, "Seasoning Champion of the World," defending his title against newcomer Keiko Ramen. We drew our inspiration from many sources, especially American pop culture. The World Wrestling Federation. Popular and boisterous wrestlers, such as "Stone Cold" Steve Austin. Costumed wrestlers from Mexico. "Snap into a Slim Jim... Eat me!" commercials. More importantly, our love of Japanese food. The challenge of making a bottle of restaurant style soy sauce come to life. We simply wanted to perform a humorous skit with food products.
Kikko-man's body is a barrel made out of cane hoops with foam core strips inside. The outer skin is constructed from brown lycra and clear vinyl stretched over the surface. Felt letters appliquéd to clear vinyl. Includes a brown long sleeve hooded, fingered and footed lycra unitard underneath. I modified a pair of platform sneakers into "Getta Sneakers". Kikko-Man's pour spout is scored and painted foam core.
DISCLAIMER: David Ramsay acknowledges the copyright holders (Kikkoman Foods, Inc.) of materials contained herein and does not seek to infringe on their rights. Kikko-Man was created for entertainment purposes only. Kikko-Man does not constitute or imply an endorsement or recommendation by Kikkoman Foods, Inc.. Likewise, David Ramsay has not received any compensation for this unintentional promotion.
Click on images for a larger view!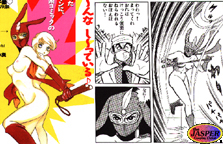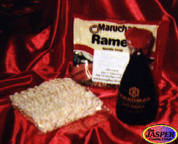 For the love of camp and Japanese food!




Kikko-Man with and without his "Seasoning Champion of the World" championship apron.
His smackdown "Soy Chair", made from the toughest substance known to Man: Soydarium.
Kimberly and I had been planning this performance for over a year. We wanted to make Japanese food products come to life, in an unexpected way. We also had to consider how big the costumes would be, since we needed to be able to move around on stage quickly. We noticed that Keiko Kamen was a popular character to cosplay on the East Coast. Yet, we wanted to do something different with Keiko, something unforeseen and bold. So, Keiko Ramen was created. "Ramen" sounds like "Kamen." When pronounced correctly, it is an obvious play on words. But, Keiko needed an adversary - someone truly icky, someone you love to hate. Since Keiko is a "Super Woman", we needed a very macho character to upset the balance. After watching various wrestling matches on television, we decided that Kikko-Man was just the guy to stir things up. The title of our act would be "Ramen Rumble", a wrestling food spoof. Once the characters were decided upon, we designed the costumes. Keiko's ramen block took longer to make, because I had to individually glue cotton strands (from mop heads) to a carved foam "brick". I had to wait for the glue to dry on one layer before adding the next. When completely dry, I spray painted the block several times to create a nice dry ramen appearance. For Kikko-Man, I had to make a barrel, with padding and stretch fabric over the surface. I was concerned the shape would not come out, since Kikkoman soy sauce bottles have a distinctive look. In both costumes, I installed harnesses to support the weight so we could move around safely and comfortably. For the Comic-Con performance, we added props and planned to whack each other with them. The nun-chops (chopsticks) and Soy Chair worked well, and the costumes were padded enough to deflect the blows.
---


"Lord of the Soy": The all new musical extravaganza!
Coming soon to a reputable, fine dining establishment near you.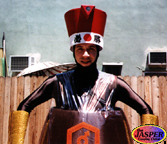 YOU dare to stare at my convenient pour spout?!





"Ramen Rumble". AX99 Judge's Award: Best Food Fight. Gettin' down with Kikko-Man!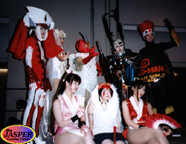 Keiko Ramen and Kikko-Man with Japanese cosplayers.
BR L/R: Kaie Tada (Alecto), Barbie Tukino (Sailor Cosmos), Keiko Ramen, Nomi Armored (Order of the White Shield)
FR L/R: Himeko Kisaragi (Pink Mai), Ryoko Vanja Kisaragi (Princess Mononoke) and Ari Asakura (Red Mai)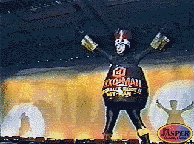 Food fighter! Kikko-Man is ready to RUMBLE!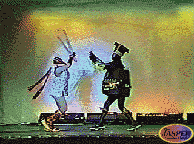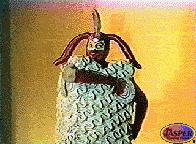 The bone-crushing battle ensues... Keiko Ramen powers up!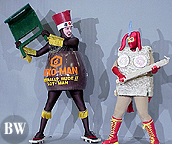 Backstage RUMBLE!
(Thanks to Bryan K. Williams for this photo.)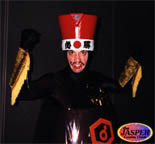 Lean, mean food machine!
I am the Seasoning Champion of the World!!!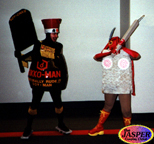 Watch out for the deadly Soy Chair, Keiko!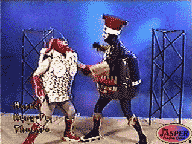 The "Ramen Rumble" performance on the Horror / Kung-Fu Theatre.


A tender moment outside the ring at Ani-Magic.
---
Please select another destination:
---
This site visited
times since 4/11/99.
Free counters provided by Honesty Communications.

---
"Ramen Rumble", "Keiko Kamen" and "Getta Sneakers" Copyright 1999 David Ramsay and Kimberly J. Ramsay.
All rights reserved.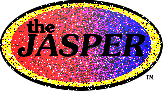 Copyright 1997~2006 David Ramsay and Kimberly J. Ramsay. All rights reserved.
"The Japanese Animation Super Premier Entertainment Review" ,
"the J.A.S.P.E.R." and "theJASPER" logo are trademarks of David Ramsay, 1998~2006.
"theJASPER Cosplay Closet" logo and
"The Cosplay Closet: 'Where Costumes Become Anime-ted' "slogan
are ® Registered Trademarks of David Ramsay, 1999~2001.
David "Z-RAM" Ramsay and Kimberly "Hikaru-chan" J. Ramsay acknowledge the
copyright holders of materials contained herein and do not seek to infringe on their rights.
Reproduction in whole or in part without permission is prohibited.