CPC Pageant Boy
Spring 2001
© 2001 David Ramsay
Original creation. The CPC Pageant Boy costume consists of a lined jacket with sequin ribbon trim & aiguillette, medals, custom satin sash & ribbon, dress pants with satin ribbon trim, hand dyed purple inspector gloves & socks and modified shoes.
Click on images for a larger view!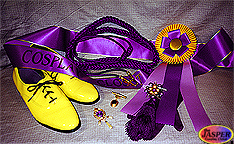 Braided cords, medals and sash... a distinguished gentleman!
For AnimeExpo 2000, Kimberly and I decided to make some obnoxious costumes. Our "purple band uniforms" created quite a stir, and people talked about them at length after the convention. So, we decided to kick off the 2001 convention season with "happy shiny" costumes. The kind of costumes that glow on their own, without the use of batteries. After enjoying the satirical film "Drop Dead Gorgeous", we wanted to make pageant costumes for ourselves. Kimberly wanted a crown and David wanted to wear lots of medals... Anyway, we chose yellow as the dominant color, with varying shades of purple to accent. Yellow is a warm and positive color; we always strive to be positive despite adversity. Invested in more trim and had custom sashes made to compliment our pageant ensemble. Needless to say, we raised a few eyebrows again for our unique interpretation of shameless self-promotion. We prefer not to limit our creativity to only recreating anime-inspired costumes, so we can comfortably fit in with everyone else. Nope, the Ramsays like a challenge, especially one that involves loud colors and lots of trim.
---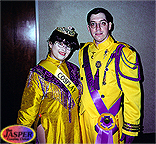 Kimberly and David wearing costumes from their new doujinshi due out this Summer:
"Cosplay Closet's Happy Shiny Days of Joy".


A very nice picture of us (David is even smiling).
Thanks to George for this photo.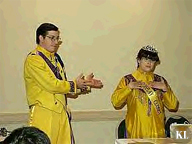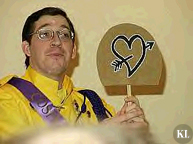 Our "Cosplay Tips and More" panel at Fanime 2001... and don't ask.


Thanks to Kevin Lillard for these photos.
---
Please select another destination:
---
This site visited
times since 4/11/99.
Free counters provided by Honesty Communications.

---
"CPC Pageant", "CPC Pageant Boy" and CPC Pageant Girl" Copyright 2001 David Ramsay and Kimberly J. Ramsay.
All rights reserved.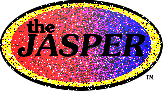 Copyright 1997~2006 David Ramsay and Kimberly J. Ramsay. All rights reserved.
"The Japanese Animation Super Premier Entertainment Review" ,
"the J.A.S.P.E.R." and "theJASPER" logo are trademarks of David Ramsay, 1998~2006.
"theJASPER Cosplay Closet" logo and
"The Cosplay Closet: 'Where Costumes Become Anime-ted' "slogan
are ® Registered Trademarks of David Ramsay, 1999~2001.
David "Z-RAM" Ramsay and Kimberly "Hikaru-chan" J. Ramsay acknowledge the
copyright holders of materials contained herein and do not seek to infringe on their rights.
Reproduction in whole or in part without permission is prohibited.