Silicon Samurai
Spring 1992
© 1992 David Ramsay
Original creation. Leather armor supported by styrene plates. Chest plate adorned by assorted keys and microchips. Parachute quick-releases at neck. Shoulder guards encrusted with plastic cups and brass bullet shells. Helmet is hand forged 16-gauge steel with laced neck guard. Sashimono-backpack is an enclosed power car antenna, with an on/off switch at waist. Face mask is appliquéd lycra. A 14x4-foot banner with PVC stand completes the samurai's environment.
Click on images for a larger view!

A close-up of the near fished armor.
At MICA, I met Mr. Haisashi Hashimoto, an artist from Japan, who was invited by MICA to build a 45-foot tall wooden Fudo Myo-0 on campus, as part of a cultural exchange program. Over the next two years, students from the sculpture department helped him with the assembly and carving of this giant sculpture. Hashimoto-san was kind to provide me with photos and sketches he made of actual samurai armor. I used these references to make an "artsy" graduation costume (while others decorated their mortarboards, I hand forged a helmet). Using microchips and keys to adorn the red leather hide, I strode proudly across the stage; accompanied by my "body guard".
---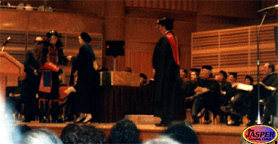 Silicon Samurai was escorted by "John Dorian" genome.
John Dorian's services were provided by The Ramsay Institute Cloning Facility.



We were some of the VERY few hall costumers at AnimeExpo 1993.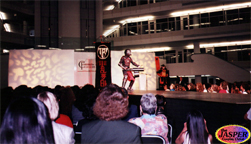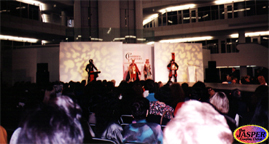 Genome-17 and Silicon Samurai at The Fashion Careers Symposium, 1993.
---
Please select another destination:
---
This site visited
times since 4/11/99.
Free counters provided by Honesty Communications.

---
"Silicon Samurai" Copyright 1992 David Ramsay. All rights reserved.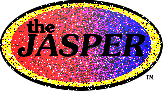 Copyright 1997~2006 David Ramsay. All rights reserved.
"The Japanese Animation Super Premier Entertainment Review" ,
"the J.A.S.P.E.R." and "theJASPER" logo are trademarks of David Ramsay, 1998~2006.
"theJASPER Cosplay Closet" logo and
"The Cosplay Closet: 'Where Costumes Become Anime-ted' "slogan
are ® Registered Trademarks of David Ramsay, 1999~2001.
David "Z-RAM" Ramsay and Kimberly "Hikaru-chan" J. Ramsay acknowledge the
copyright holders of materials contained herein and do not seek to infringe on their rights.
Reproduction in whole or in part without permission is prohibited.