Roughneck Joe

1997-2000

© 1997-2000 David Ramsay

Click on images for a larger view!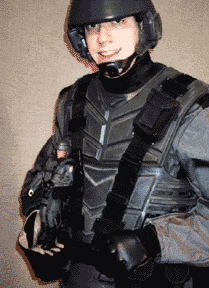 Citizen Dave with his Roughneck Joe©.
Being a big fan of the movie Starship Troopers, by Paul Verhoeven and the original novel by Robert A. Heinlein, I wanted to design my own action figure. First, we have custom-made Starship Troopers: Mobile Infantry (M.I.) uniforms made to fit the 12-inch, 1997, Classic Collection GI Joe© action figure. They're patterned straight from the actual film-used uniforms I have in my collection. The Codura Nylon fabric I used for Roughneck Joe© is the same material used in the film. The same color of this "waterproof backpack material" was found in a smaller weave called pack-cloth. This smaller weave helps reinforce the 1/6-scale.
The M.I. tunic/jacket uses a gray pack-cloth. Three custom-made, miniature fabric patches (Mobile Infantry, 6th Division diamond & wings) are sewn down to the sleeves and chest along with a faux pencil pocket on the right shoulder. A black cotton knit, roll collar finishes the tunic. All seams have a double top-stitch, just like the actual tunic. A real working miniature zipper showcases the tunic along with elastic sides and vented underarms keep Roughneck Joe© or Roughneck Jane© in style!
The M.I. pants also used this gray pack-cloth. Elastic stirrups and suspenders keep the pants in perfect position whether they're standing at attention or relaxing between drops. A working snap closes the fly. The padded, lower back brace wraps around the waist to the sides. The shins are also padded and top-stitched. The showcase of the pants are the knees. A six-inch piece of pack-cloth has been pleated down from six-inches to one, and flexes like a bellows when you bend the figure's knee, just like the actual pants.
There are more than 52 individual, hand-sewn pieces in each Roughneck Joe uniform!
The M.I. boots, ah yes...those cool boots. These miniature leather boot covers are attached to a Classic Collection black boot. Straps of webbing wrap around the upper, and four miniature snaps hold the boot closed. The back of the boot is covered in matching gray pack-cloth. (The boots are not yet shown in the images)
There are 25 individual pieces in one boot alone! That's why cast rubber versions were also made...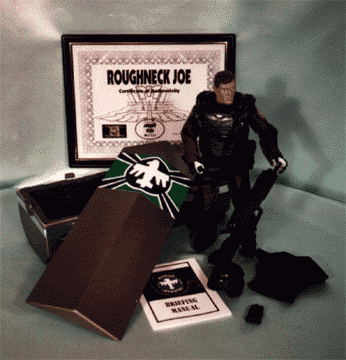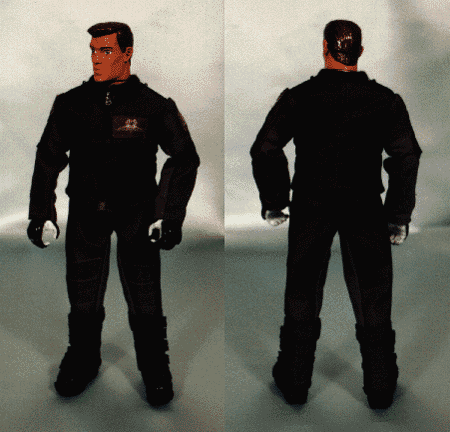 Complete Roughneck Joe© set with accessories, COA and ready-to-go coffin.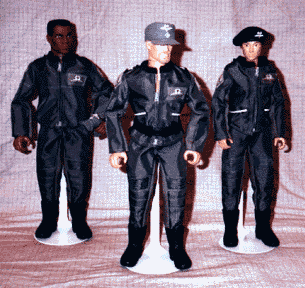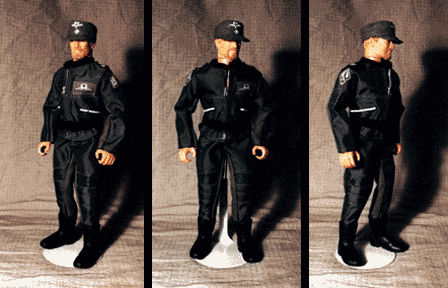 Roughneck Joe© and Roughneck Jane© accompany my Sergeant Zim homage.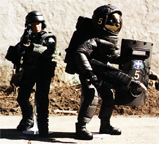 As seen in the Jan. 2001 issue of Tomart's Action Figure Digest. Three "Roughneck Joe©" action figures from Starship Troopers were chosen as Runner-Ups in AFD's Figure Design 2000 contest. AFD, issue no. 83, page 30.
---
This is the custom-made Starship Troopers Mobile Infantry (M.I.) armor made to fit the 12-inch, 1997, Classic Collection GI Joe action figure. It is patterned from actual film-used armor. Materials used here are the same as in the actual props. EST-40 (A/B catalytic rubber) was used for all of the flexible pieces. Sil-Cast (A/B catalytic resin) was used for the accessories. This gives the armor a similar feel and assembly to that of the original.
The M.I. armor uses EST-40, tinted gray. Three separate pieces are molded: belly, yoke and back and then Cyno'd together. Details such as strap segments and buckles are put in place. All webbing plates are black and have rivet details, just like the actual armor. A molded rations and water bottle pouches are then attached to the armor. To the left side, magazine pouches made from black pack-cloth hold the two extra Morita magazines. On the right side, a thigh knife sheath , with removable knife, is held on by elastic leg loops.
The M-3 tactical helmet and Morita rifle are made from Sil-Cast. This simulated "A-grade" helmet has painted ear screens and a removable chin strap. Foam inserts help keep Roughneck Joe© in style! The Morita rifle has a removable magazine (comes with three, for those long fire-fights), and adjustable shoulder strap. Both the helmet and Morita were sculpted from original props.
The cast rubber M.I. boots help showcase this armor set. Made from EST-40 tinted black, they are slush-cast for a comfortable fit. Again sculpted from original props, every detail is captured! From the webbing and buckles that encircle the upper half, to the (Adidas 1995 Winter Trekker hiking shoe) tread on the bottom.
There are 47 individual pieces in each Roughneck Joe© armor set.
---



Standard issue Roughneck Joe© with Morita.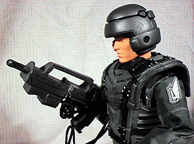 Roughneck Joe© with Morita carbine.
Notice the cool, tiny M.I. patch.



Roughneck Joe© with custom ammo backpack.


Roughneck Joe© with custom communications pack.
Includes whip antenna, hand-held comm unit with detachable cable and pouch.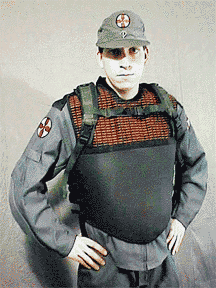 My rare, film-used Medic uniform.
I have been collecting Starship Troopers props and memorabilia since 1996.


Please visit TrooperPX: "The Worlds Most
Complete Starship Troopers Collection"
---
Please select another destination:
---
This site visited
times since 4/11/99.
Free counters provided by Honesty Communications.

---
"Roughneck Joe" and "Roughneck Jane" Copyright 1997-2006 David Ramsay. All rights reserved.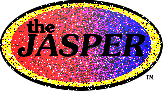 Copyright 1997~2006 David Ramsay. All rights reserved.
"The Japanese Animation Super Premier Entertainment Review" ,
"the J.A.S.P.E.R." and "theJASPER" logo are trademarks of David Ramsay, 1998~2006.
"theJASPER Cosplay Closet" logo and
"The Cosplay Closet: 'Where Costumes Become Anime-ted' "slogan
are ® Registered Trademarks of David Ramsay, 1999~2001.
David "Z-RAM" Ramsay and Kimberly "Hikaru-chan" J. Ramsay acknowledge the
copyright holders of materials contained herein and do not seek to infringe on their rights.
Reproduction in whole or in part without permission is prohibited.
First uploaded Aug. 4, 1997 by: David Ramsay
Major Renovation September 1, 2000