Sir Ferric of Lecithin, Son of Queen Pantothenate, from the Land of Carrageenan

Spring 1988

© 1988 David Ramsay

Original creation. Costume made from scratch. Hand-dyed blue cloak with red hood. Brown canvas jerkin. White cotton kilt-shirt pattern and canvas pants. Hand-hammered steel, segmented chest armor with arc-welded dragon design. Cast resin broaches. Blue fabric boot covers.

Click on images for a larger view!


Appearing at Balticon 23.
---
I wanted to make a Renaissance Faire-style costume. In High School, I had played several years of D&D (Dungeons & Dragons). Sir Ferric of Lecithin was my most successful D&D character, and I had a chance to make his costume. While I did not have the skills to reproduce what was in my head, I did what I could with what I had. Now with 12+ years more experience under my belt, today this costume would look very different... The steel chest armor was made in the sculpture department at MICA. I spent days in the "Station Building" hammering it out. The smithy that would later help me with my samurai helmet loaned me the templet for this chest piece. Looking back at this costume, it was too clean and new looking. To be true to the character, I should have distressed this costume to express the age and battled experience of Sir Ferric of Lecithin. But I was young and felt I had worked so hard on it. Later in Graduate School, I would learn how to age clothes without actually damaging them.
---


Close-up of the dragon detail.
---
Please select another destination:
---
This site visited
times since 4/11/99.
Free counters provided by Honesty Communications.

---
"Sir Ferric of Lecithin, Son of Queen Pantothenate, from the Land of Carrageenan" Copyright 1988 David Ramsay.
All rights reserved.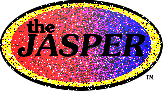 Copyright 1997~2006 David Ramsay. All rights reserved.
"The Japanese Animation Super Premier Entertainment Review" ,
"the J.A.S.P.E.R." and "theJASPER" logo are trademarks of David Ramsay, 1998~2006.
"theJASPER Cosplay Closet" logo and
"The Cosplay Closet: 'Where Costumes Become Anime-ted' "slogan
are ® Registered Trademarks of David Ramsay, 1999~2001.
David "Z-RAM" Ramsay and Kimberly "Hikaru-chan" J. Ramsay acknowledge the
copyright holders of materials contained herein and do not seek to infringe on their rights.
Reproduction in whole or in part without permission is prohibited.