Scorpii Lady
(House of Scorpii)
Summer 2001
© 2001 David Ramsay
Original creation. The Scorpii Lady costume consists of a red satin gown, with reversed sleeves (matte outside, satin finish inside). Alternating panels of black netting and striped fabric. Brocade obi with metallic thread, green/red cording and tassels. Accessories include a headpiece (illuminated with Cool Neon), jewelry, satin gloves, platform shoes and modified Beanie "Stinger" mascot.
Click on images for a larger view!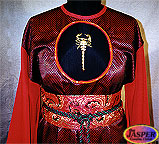 The regal Scorpii Lady costume.
A circular opening, edged in Cool Neon, is used to frame a large scorpion pendant.
We found a gorgeous $30 per yard brocade fabric for the obi.



The sleeves are enormous! We added embroidered flowers on the back of the sleeves, to resemble Japanese mon.
We used the shiny side of the fabric on the inside, so when they moved, one could see the fiery red.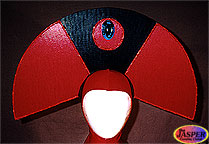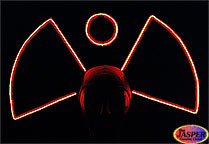 Scorpii Lady's chest and headpiece are edged in Cool Neon.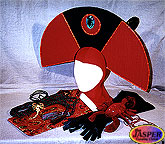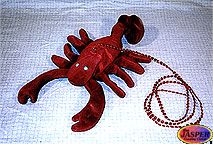 Scorpii Lady's accessories.
A modified Beanie "Stinger" is Scorpii Lady's pet on a leash.


Surprisingly, Scorpii Lady is a comfortable costume. The headpiece is very light.
When we were asked to be judges at the AnimeExpo 2001 Masquerade, Kimberly and I wanted to wear special costumes for the event. Last year at AnimeExpo, we could not judge costumers in our fully enclosed costumes, so we wore our company shirts during the Craftsmanship Judging portion. Of course, we were ragged about that... even though we performed in large Pokémon costumes that evening. For the 10th Anniversary, the Ramsays had to make a big impression. Kimberly and I planned for several months, searching for the right fabrics and materials. A great deal of money and time were spent designing these unique costumes. We were inspired by CLAMP, specifically "Tokyo Babylon" and "X" illustrations. We also admired costume designs from Star Wars - Episode1. Other characters that interested us were from "Legend of the Five Rings" , a popular RPG... you guessed it, the Scorpion Clan. Kimberly and I both desired stylish costumes with plenty of interesting details. I really wanted the costumes to light up, so I integrated red Cool Neon into both our costume designs.
---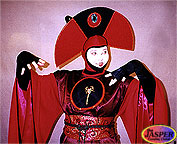 Scorpii Lady isn't bad... she's just misunderstood.



Very pleased with our lighting effects.
(Animated GIF will activate after page has loaded.)

Can you find the elements that inspired Scorpii Lady?



Scorpii Lord and Lady at AnimeExpo 2001.



Hall costuming on Sunday at AnimeExpo.


Scorpii Lady and Queen Amidala (Bryndan Bedel).


Industry Judges at Comic-Con International 2001.
Cool Neon, by Funhouse Productions.
Please check out their product at CoolNeon.com

---
Please select another destination:
---
This site visited
times since 4/11/99.
Free counters provided by Honesty Communications.

---
"House of Scorpii", "Scorpii Lord and "Scorpii Lady" Copyright 2001 David Ramsay and Kimberly J. Ramsay.
All rights reserved.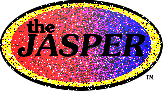 Copyright 1997~2006 David Ramsay and Kimberly J. Ramsay. All rights reserved.
"The Japanese Animation Super Premier Entertainment Review" ,
"the J.A.S.P.E.R." and "theJASPER" logo are trademarks of David Ramsay, 1998~2006.
"theJASPER Cosplay Closet" logo and
"The Cosplay Closet: 'Where Costumes Become Anime-ted' "slogan
are ® Registered Trademarks of David Ramsay, 1999~2001.
David "Z-RAM" Ramsay and Kimberly "Hikaru-chan" J. Ramsay acknowledge the
copyright holders of materials contained herein and do not seek to infringe on their rights.
Reproduction in whole or in part without permission is prohibited.