Phase-Plasma Rifle... in the 80-Watt Range

January 1988

© 1988 David Ramsay

Original creation. Prop rifle made from found objects, including 6-foot aluminum tubing, anodized stove pipe section, King's Dominion 32-ounce cup, clear PVC tubing, some wire and a toilet paper tube "flash suppresser". Inspired by "The Terminator" film. His was only 40 watts... I designed my prop weapon to be as long as possible and still fit in the car (7'6"). Black trenchcoats and sunglasses indoors was the cool thing to do. I added a white boutonniere for that "gentlemanly" style. Unfortunately, at first hotel security thought it was a flame-thrower.

Click on image for a larger view!


Guarding the halls during Opening Ceremonies at EveCon 5.
---
Please select another destination:
---
This site visited
times since 4/11/99.
Free counters provided by Honesty Communications.

---
"Phase-Plasma Rifle... in the 80-Watt Range" Copyright 1987 David Ramsay. All rights reserved.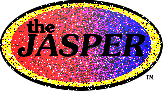 Copyright 1977~2003 David Ramsay. All rights reserved.
"The Japanese Animation Super Premier Entertainment Review" ,
"the J.A.S.P.E.R." and "theJASPER" logo are trademarks of David Ramsay, 1998~2003.
"theJASPER Cosplay Closet" logo and
"The Cosplay Closet: 'Where Costumes Become Anime-ted' "slogan
are ® Registered Trademarks of David Ramsay, 1999~2001.
David "Z-RAM" Ramsay and Kimberly "Hikaru-chan" J. Ramsay acknowledge the
copyright holders of materials contained herein and do not seek to infringe on their rights.
Reproduction in whole or in part without permission is prohibited.