Briareos and Deunan
Spring 1993
© 1993 David Ramsay
SD Briareos doll is a Japanese Animation recreation from Shirow Masamune's "Appleseed". Face and line details in Deka fabric paint. Separate pants and jacket. Hands are made from ultra-suede. Shown here with Kimberly Johnson in her Deunan costume (I designed and patterned this costume using the single illustration on page #37 of "Intron Depot 1"), constructed by Amy M. Schneider.
Click on images for a larger view!




Using a commercial stuffed animal pattern, I modified it to design Briareos.
Kimberly and I planned to attend our first anime convention, AnimeExpo 1993, in costume. At the time I was too busy with work at the good guys! to construct a costume this complex for Kimberly, so she commissioned the costume to be assembled by Amy M. Schneider. I designed and patterned the costume using the single illustration on page #37 of "Intron Depot 1". Kimberly deliberately selected an obscure version of Deunan, instead of her overly done military fatigues. She wanted to use high-end fabrics for this costume, so we purchased ultra-suede and real silk. To compliment her costume, I made an SD Briareos doll. Sadly, the costume was neither recognized nor well-received at the time, because not many American fans had access to much of Shirow's original works. Since it was not from the "anime", we guess unfamiliar costumes go over some people's heads. To further complicate matters, the lights were turned off during Kimberly walk-through at the AX93 Masquerade, so no one could actually see her costume and the effort put into this beautiful costume.
---




Inspired by Masamune's illustration on page #37 of "Intron Depot 1".


Deunan and Briareos at AnimeExpo 1993.
---
Please select another destination:
---
This site visited
times since 4/11/99.
Free counters provided by Honesty Communications.

---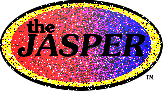 Copyright 1997~2006 David Ramsay and Kimberly J. Ramsay. All rights reserved.
"The Japanese Animation Super Premier Entertainment Review" ,
"the J.A.S.P.E.R." and "theJASPER" logo are trademarks of David Ramsay, 1998~2006.
"theJASPER Cosplay Closet" logo and
"The Cosplay Closet: 'Where Costumes Become Anime-ted' "slogan
are ® Registered Trademarks of David Ramsay, 1999~2001.
David "Z-RAM" Ramsay and Kimberly "Hikaru-chan" J. Ramsay acknowledge the
copyright holders of materials contained herein and do not seek to infringe on their rights.
Reproduction in whole or in part without permission is prohibited.