Sharon Apple
Spring 1996
© 1996 David Ramsay
Japanese Animation recreation from "Macross Plus". Costume made from scratch. Shoulders are poly-filled. Hair adornment is hair-covered feather, shaped with Sobo. Wig shaped and styled with the assistance of theater associate David Larson.
Click on images for a larger view!




Inspiration from a single Sharon Apple illustration in Newtype Magazine (May '95).
This costume debuted at AnimeExpo 1996. Kimberly really wanted to recreate Sharon Apple. The concept of a holographic seductress fascinated her... Once again, Kimberly selected an obscure version (see Deunan) to make, using a single Sharon Apple illustration in Newtype Magazine (May '95). It was Kimberly's first experience with Ben Nye make-up, and we were both pleased with the results. The biggest challenge was creating Sharon's "hair antenna". Using a feather, I placed synthetic hair on it, then covered it in Sobo glue. Once it dried, I cut out the desired shape. The glue dried clear, so all you see is the texture. This lightweight hair adornment was attached via sprint gum to Kimberly's forehead. At the time, it was one of the few representations of this sexy and mysterious character. Sadly, the costume was neither recognized nor well-received at the time, because not many American fans had access to Japanese publications, many which contain original illustrations. Since it was not from the film everyone saw, we guess unfamiliar costumes go over some people's heads.
---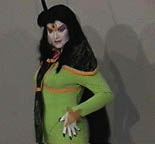 Sharon Apple striking a pose at LACon III.




Cameo appearance by handsome Zion leader, Char Aznable!
---
Please select another destination:
---
This site visited
times since 4/11/99.
Free counters provided by Honesty Communications.

---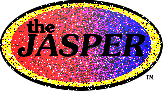 Copyright 1997~2006 David Ramsay and Kimberly J. Ramsay. All rights reserved.
"The Japanese Animation Super Premier Entertainment Review" ,
"the J.A.S.P.E.R." and "theJASPER" logo are trademarks of David Ramsay, 1998~2006.
"theJASPER Cosplay Closet" logo and
"The Cosplay Closet: 'Where Costumes Become Anime-ted' "slogan
are ® Registered Trademarks of David Ramsay, 1999~2001.
David "Z-RAM" Ramsay and Kimberly "Hikaru-chan" J. Ramsay acknowledge the
copyright holders of materials contained herein and do not seek to infringe on their rights.
Reproduction in whole or in part without permission is prohibited.