David's Sculpture
(Gallery One)

1987-Current

© 1987-Current David Ramsay

Click on images for a larger view!



Steel sculpture. "Hakama" made from hammered sheet steel; torso and arm from welded masonry nails; steel helmet with wooden hairbrush handle mane.
---
Gatchalope (a.k.a. G-Force-a-lope)
1987


Plaster sculpture with deer antlers.
---
Armor and Jewelry
1987-1988


Hand-hammered steel, segmented chest armor with arc-welded dragon design. Cast resin broaches.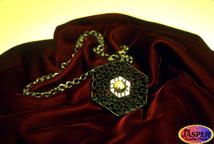 Jewelry, silver dome on chainmail.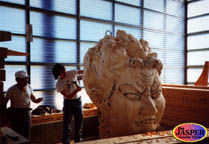 The impressive and beautiful Fudo Myo-O sculpture.
At MICA, I met Mr. Haisashi Hashimoto, an artist from Japan, who was invited by MICA to build a 45-foot tall wooden Fudo Myo-0 on campus, as part of a cultural exchange program. Over the next two years, students from the sculpture department helped him with the assembly and carving of this giant sculpture.



SD Briareos doll is a Japanese Animation recreation from Shirow Masamune's "Appleseed". Face and line details in Deka fabric paint. Separate pants and jacket. Hands are made from ultra-suede. Using a commercial stuffed animal pattern, I modified it to design Briareos.
---
Cyber Soldier (variant)
1989


Using chest and helmet from "Cyber Soldier", I added a new P.A.W. and hand-dyed fatigue pants. P.A.W. made from found objects, including 6-foot aluminum tubing, cardboard and vinyl hose. Not seen is the helium tank "ammo" backpack. Pictured here during a comic book signing promotion at Dragon Comics with Spiderman.


A wool jacket adorned with microchips and puffy paint.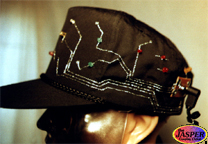 Chip jacket and hat fashions with working LEDs. Hat plugs into jacket and flashes in synch with other LEDs.



Custom-made armor and uniform from Starship Troopers, to fit a 12-inch Classic Collection GI Joe© action figure. Everything is patterned directly from actual film-used props. For more images, click here.
---
Misc. Events and Projects
1997-1999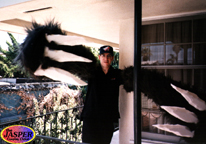 Other unusual projects... 5-foot creature arms for Nightmarez Cafe and 10-foot purple elephant for Super Bowl Visa commercial (but never used... they went with a 4-foot FAO Schwartz teddy flown in from Germany.). But hey, I still got paid, and a local business ended up with one helleva topiary!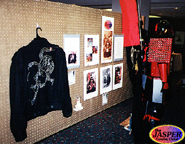 My art show display at AnimeExpo 1999.


Great Saiyaman 2 protecting our booth.
For more Sculpture and Artwork:
---
Please select another destination:
---
This site visited
times since 4/11/99.
Free counters provided by Honesty Communications.

---
"Garden Guardian", "Gatchalope", "G-Force-a-lope", "Pumpkin Rage", "Cyber Soldier", "The Ramsay Institute" and "Roughneck Joe" Copyright 1987-2002 David Ramsay. All rights reserved.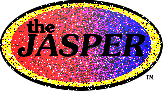 Copyright 1997~2006 David Ramsay. All rights reserved.
"The Japanese Animation Super Premier Entertainment Review" ,
"the J.A.S.P.E.R." and "theJASPER" logo are trademarks of David Ramsay, 1998~2006.
"theJASPER Cosplay Closet" logo and
"The Cosplay Closet: 'Where Costumes Become Anime-ted' "slogan
are ® Registered Trademarks of David Ramsay, 1999~2001.
David "Z-RAM" Ramsay and Kimberly "Hikaru-chan" J. Ramsay acknowledge the
copyright holders of materials contained herein and do not seek to infringe on their rights.
Reproduction in whole or in part without permission is prohibited.