While attending Graduate School, I was taking a class in "Garments from the Flat Pattern" and "Tailoring for Men". The shop manager, Michael Pacciorini helped me hone these skills. Since I'm a big Mobile Suit Gundam fan, I wanted to make one of Char Aznable's uniforms. He's my favorite Gundam character. I noticed that very few people attempted Char's dress uniform from "Char's Counterattack", so that was the costume for me. The shoulder armor and flowing cape immediately caught my attention. This specific uniform is very elegant and challenging. I had to figure a way to make convincing shoulder armor, without using metal or any other heavy material. It had to be in proportion to my body and not disrupt the overall silhouette. So I layered pieces of felt, then carved and painted it with Sobo glue. Once stiffened, I colored the armor with different shades of FEV-bronzing powder. I had to make sure the armor was hinged, so it would fit snugly on my shoulders. My goal was to fabricate an accurate recreation of Char, therefore, I needed blonde hair to complete the look. Not about to dye and strip my dark brown hair for this costume... I contacted theater associate David Larson, and asked him to design and style a fronted blonde wig. Fronted wigs are very difficult and time-consuming to make, especially wigs with gravity-defying bangs. I provided reference images from NewType Magazine, so David could recreate Char's trademark "feathery" sideburns and bangs.
---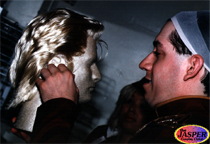 Getting ready...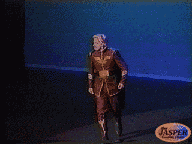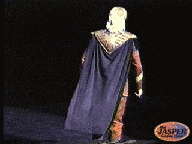 "Char Aznable presentation at San Diego Comic-Con 1995.


Char wins a trophy at San Diego Comic-Con 1995.


The dashing "Red Comet" at LACon III.
---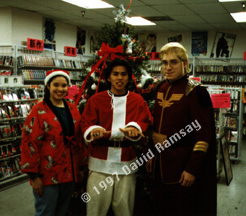 Char and friends celebrate Christmas at J-Wave video store.



Who's hiding behind my cape?! Char meets a kawaii Sailor Mercury at AnimeExpo 1998.


Ahhh... Feelin' groovy with Apollo Smile!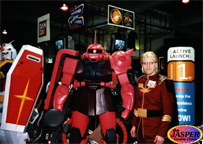 Char Aznable could NOT pass up this golden opportunity!
Bandai Entertainment had a wonderful, 8-foot Zaku on display at Comic-Con International 1998.
Imagine that "Bad Boy" on your front lawn!


Char at Otakon 2000.


A more casual Char.
---
Please select another destination:
---
This site visited
times since 4/11/99.
Free counters provided by Honesty Communications.

---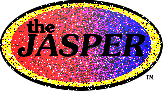 Copyright 1997~2006 David Ramsay and Kimberly J. Ramsay. All rights reserved.
"The Japanese Animation Super Premier Entertainment Review" ,
"the J.A.S.P.E.R." and "theJASPER" logo are trademarks of David Ramsay, 1998~2006.
"theJASPER Cosplay Closet" logo and
"The Cosplay Closet: 'Where Costumes Become Anime-ted' "slogan
are ® Registered Trademarks of David Ramsay, 1999~2001.
David "Z-RAM" Ramsay and Kimberly "Hikaru-chan" J. Ramsay acknowledge the
copyright holders of materials contained herein and do not seek to infringe on their rights.
Reproduction in whole or in part without permission is prohibited.