CPC Commando Joe
Fall 2000
© 2000 David Ramsay
Original creation. The CPC Commando Joe costume consists of a hand-painted camouflage T-shirt with custom embroidered (subdued, purple on purple) CPC patch & "Mean People SUCK" patch, custom purple & yellow dogtags, belt, hand-painted camouflage pants with Tinky-Winky keychain, hand-painted camouflage cap with embroidered (subdued, purple on purple) CPC patch, socks and boots.
Click on images for a larger view!


Notice the left-arm patch "Mean People Suck". If this patch offends you,
does that tell you that you are mean? Why would you "take it personally" if it
did not "apply" to you? But then again, maybe you're mean, and you suck...


Tinky-Winky lends support to the cause! *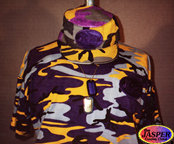 We contacted our theater associate David Larson for a few
custom (subdued, purple on purple) embroidered patches.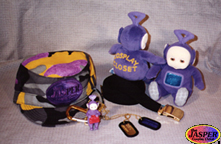 Accessories.
* Tinky-Winky having also endured personal attacks and discrimination at
the hands of the ignorant and misguided, offered solace and guidance in our
pursuit of happiness. Like Tinky-Winky, in the end , WE too will be vindicated.
For Ani-Magic 2000, Kimberly and I decided to make new hall costumes. They needed to be comfortable and easy to maintenance, yet flashy. We wanted to continue our purple and yellow theme (since it was so well-received at AX 2000) with a military twist. Okay, we can't take credit for the "Commandos" part. Lisa Munden came up with this name in the halls before our "Cosplay Faux Pas" panel. We like the title cuz it's a positive, accurate description. A far cry from "Cosplay Nazis"... We noticed the local military personnel staying at the hotel (during Ani-Magic) admiring our unusual camouflage. Very cool. The costumes were a pain, because we had to paint the camouflage by hand and that took FOREVER to dry. Also, the fabric paint took differently to the pants verses the T-shirt, so the purple varies.
---

During the "Cosplay Faux Pas" panel at Ani-Magic.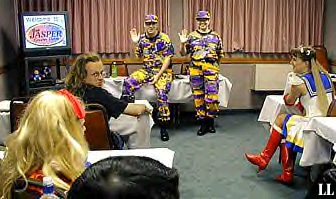 It was great to see many familiar and new faces in the crowd. Thanks for attending!
(Thanks to Linus Lam for these photos.)
---
Please select another destination:
---
This site visited
times since 4/11/99.
Free counters provided by Honesty Communications.

---
"CPC Commando", CPC Commando Joe" and "CPC Commando Jane" Copyright 2000 David Ramsay
and Kimberly J. Ramsay. All rights reserved.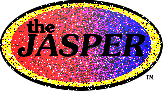 Copyright 1997~2006 David Ramsay and Kimberly J. Ramsay. All rights reserved.
"The Japanese Animation Super Premier Entertainment Review" ,
"the J.A.S.P.E.R." and "theJASPER" logo are trademarks of David Ramsay, 1998~2006.
"theJASPER Cosplay Closet" logo and
"The Cosplay Closet: 'Where Costumes Become Anime-ted' "slogan
are ® Registered Trademarks of David Ramsay, 1999~2001.
David "Z-RAM" Ramsay and Kimberly "Hikaru-chan" J. Ramsay acknowledge the
copyright holders of materials contained herein and do not seek to infringe on their rights.
Reproduction in whole or in part without permission is prohibited.