Purdy
Summer 2004
© 2004 David Ramsay
Original creation. For Purdy, we tried to recreate the classic "rodeo clown" look - a mismatched shirt, cut up jeans and handkerchiefs at the waist. The costume is made of piecemealed clothing from our personal wardrobe and Salvation Army. I added a wire waistband, so the jeans would bulge out and look silly. The jeans were distressed with a surform and wire brush, to give the impression that Purdy wore them all the time. To add more flair, Kimberly and I selected colorful fabrics and emblems to decorate Purdy's jeans. We thought Purdy should carry an insecticide sprayer to protect herself against really rank bugs (She lost one of her arms, now mechanical, to a Mexican Sand Beetle.). To entertain the audience, Purdy uses a colorful barrel.
Click on images for a larger view!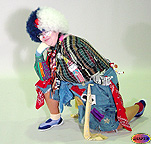 Purdy, the FedNet Clown.
Her job is to protect the bug riders from injury.


Purdy's references.
With much respect to the REAL bullfighters!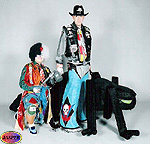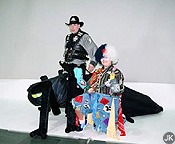 The cast of "8 Seconds". Two identical sets of chaps were made... one to wear while
moseyin' along, and one for the set of half-scale legs used while "riding" the bug.
(Thanks to Jack Krolack for these photos.)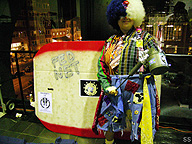 Purdy and her collapsible barrel, that folds flat and fits in a garment bag.
(Thanks to Steven R. Staton for this photo.)



During a run in with a Mexican Sand Beetle, Purdy lost her arm.
S.I.C.O.N. provided her with a new one - at no extra charge!
For some time, Kimberly and I tossed the idea of a Starship Troopers skit around. We kept gravitating to a scene in the film when Johnny Rico jumps on the back of a mean Tanker Bug, tosses a grenade under it's shell and "saves the day". Instead of just recreating this scene from the film, we gave it a Western spin. Johnny Rico would be bareback riding a Tanker Bug, like cowboys bull riding at a rodeo. Our hero would be participating in the "Intergalactic Finals, PBR - Pro Bug Rodeo Tour", sponsored by S.I.C.O.N. Kimberly and I enjoy watching bull riding at local fairs and on television, so why not have some fun? I have been an obsessed Starship Troopers collector for over eight years. Basically, I collect anything relating to Robert A. Heinlein's story - film-used props, books audio/video, promotional goods, etc. It was time to see this crazy skit realized, so we gathered as much information (and parts) to see it through. We presented our "first dress" at Noreascon 4, the 62nd World Science Fiction Convention.
For more information about my Starship Troopers reference collection, please visit:
---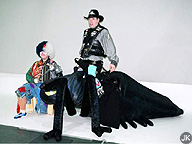 Yee-Haw! Welcome to the Intergalactic Finals.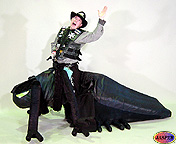 Johnny, don't get caught in the well!
---
Please select another destination:
---
This site visited
times since 4/11/99.
Free counters provided by Honesty Communications.

---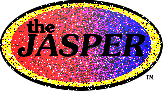 Copyright 1997~2006 David Ramsay and Kimberly J. Ramsay. All rights reserved.
"The Japanese Animation Super Premier Entertainment Review" ,
"the J.A.S.P.E.R." and "theJASPER" logo are trademarks of David Ramsay, 1998~2006.
"theJASPER Cosplay Closet" logo and
"The Cosplay Closet: 'Where Costumes Become Anime-ted' "slogan
are ® Registered Trademarks of David Ramsay, 1999~2001.
David "Z-RAM" Ramsay and Kimberly "Hikaru-chan" J. Ramsay acknowledge the
copyright holders of materials contained herein and do not seek to infringe on their rights.
Reproduction in whole or in part without permission is prohibited.