China Doll
Fall 1993
© 1993 David Ramsay
Original creation with piecemealed components. Headpiece made from scratch, consisting of beads, faux flowers and pompoms. Purchased red satin cheongsam with three frog closures and embroidery.
Click on images for a larger view!
For Halloween 1993, Kimberly wanted to wear a costume at work. She purchased a cheongsam from a vintage clothing store. We had to make some minor alterations in order for it to fit her. Then, Kimberly started making a headpiece for her costume, inspired from Peking Opera illustrations. It just so happened that a local theatre department was closing and all their notions, beads and headforms were for sale. We quickly jumped in the car and snatched up a bunch of things. Once Kimberly had strung all the beads and stitched them to a piece of satin, she realized the headpiece was too heavy. It kept flopping over and would not stay up, once tied to the back of her head. This is when I stepped in... I designed an understructure to keep the headpiece rigid, so it could support the weight of the beads and pompoms. Overall, we were pleased with the results and Kimberly had a good time at work that day.
---
---
Please select another destination:
---
This site visited
times since 4/11/99.
Free counters provided by Honesty Communications.

---
"China Doll" Copyright 1993 David Ramsay and Kimberly J. Ramsay. All rights reserved.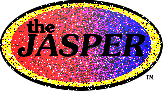 Copyright 1997~2006 David Ramsay and Kimberly J. Ramsay. All rights reserved.
"The Japanese Animation Super Premier Entertainment Review" ,
"the J.A.S.P.E.R." and "theJASPER" logo are trademarks of David Ramsay, 1998~2006.
"theJASPER Cosplay Closet" logo and
"The Cosplay Closet: 'Where Costumes Become Anime-ted' "slogan
are ® Registered Trademarks of David Ramsay, 1999~2001.
David "Z-RAM" Ramsay and Kimberly "Hikaru-chan" J. Ramsay acknowledge the
copyright holders of materials contained herein and do not seek to infringe on their rights.
Reproduction in whole or in part without permission is prohibited.