Daddy-O Ram Rizzle
Summer 2004
© 2004 David Ramsay
Original creation with piecemealed components. Extra, extra large suit tailored to fit; added shoulder pads and pegged the pants. Removed all the original buttons on the suit, and replaced them with fancy two tone buttons. Three looped goldtone chain with "D" connector. Solid oak cane, with hand-painted details.
Click on images for a larger view!

Sophisticated zoot style!

Hip cat!
For the Art Show Gala at Noreascon 4, Kimberly and I decided to wear fancy outfits. I've always admired zoot suits (loved the movie Zoot Suit with Edward James Olmos), and wanted to make one for myself. To top it off, I could wear a 4-inch brimmed Tando hat, with pheasant feather! Kimberly's favorite color is yellow, so I incorporated yellow elements into my outfit to match. Basically, Kimberly and I just wanted to have fun. One doesn't see goldenrod yellow too often, so we knew these hip outfits would produce many stares. We are happy to note that many con goers enjoyed our "lemony fresh" take on zooter style.
---

Stylin' in tha Art Show.

Daddy-O perfectin' tha stride.

Strollin' in Prudential Center.
---
Please select another destination:
---
This site visited
times since 4/11/99.
Free counters provided by Honesty Communications.

---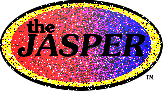 Copyright 1997~2006 David Ramsay and Kimberly J. Ramsay. All rights reserved.
"The Japanese Animation Super Premier Entertainment Review" ,
"the J.A.S.P.E.R." and "theJASPER" logo are trademarks of David Ramsay, 1998~2006.
"theJASPER Cosplay Closet" logo and
"The Cosplay Closet: 'Where Costumes Become Anime-ted' "slogan
are ® Registered Trademarks of David Ramsay, 1999~2001.
David "Z-RAM" Ramsay and Kimberly "Hikaru-chan" J. Ramsay acknowledge the
copyright holders of materials contained herein and do not seek to infringe on their rights.
Reproduction in whole or in part without permission is prohibited.