For the launch of our new costuming business, Kimberly and I decided to make Pokémon-inspired costumes. Anticipating that we would have multiple opportunities to wear these costumes, I wanted to make sure the costumes would look good after many events. So we picked comfortable, low maintenance and wrinkle-resistant fabrics. We wanted to design something different from the scantily clad, bathing suit Pika Girls from Japan. Also, the costumes had to look comical and compliment one another, in silhouette as well as in color. By early 1999, in the US, there were few Pikachu variations (other than bathing suit or leotard-based costumes) and even fewer, if any, Squirtle costumes. Kimberly's costume would resemble a school uniform, with the addition of furry ears, arm & leg covers and a lightning-bolt tail. Her character is named "Pika Sweet," because Pikachu is a cute, fuzzy, roly-poly critter. BTW, Pika Sweet is Pikachu's older sister (Pikachu being 13-lbs. and Pika Sweet being... none of your business!). I needed a kawaii, Poké character for myself, so I chose to portray "Squirtle" (the Turtle). I called myself "Mr. Squirtle," since I am a grown man wearing a turtle suit (Mr. Squirtle being 6'1" and Squirtle being 1'8"). Simple enough. Kimberly and I enjoy wearing these costumes and the response has been quite favorable, especially with children. Having kids scream "SQUIRTLE!!!" or "PIKACHU!!!" from 100 yards away (when they see us), and believing that we REALLY are Pokémon makes us feel great. We have been fortunate to exhibit our Pokémon costumes in multiple events, in and outside the typical anime convention scene. As a side note, we encountered several Americans (mainly teenagers) who had a problem with a "female" Pikachu, to the point of throwing insults at Kimberly. We found this rather odd, since Pika Girls are a regular sight at Japanese conventions and Comikets. In most cases, this allows them to wear sexy or barely-there costumes. Oh well, we guess original characters or unfamiliar Pokémon go over some people's heads.
---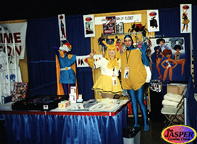 The Cosplay Closet booth at AnimeExpo 1999.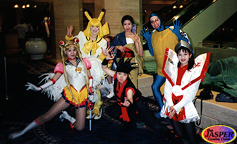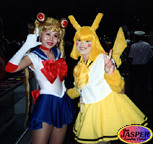 Pika Sweet and Mr. Squirtle with celebrity cosplayers.
BR L/R: Pika Sweet, Nomi Armored (Sizuku Fuji), Mr. Squirtle
FR L/R: Barbie Tukino (Eternal Sailor Moon), Ryoko Vanja Kisaragi (Eiji) and Kaie Tada (Bacstual)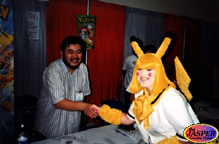 Pika Sweet at Comic-Con International 1999.
Pika Sweet meets Mr. Toshihiro Ono, creator of the Pokémon comics! Piii-ka!
For more Pika Pika Piiii Pi Pika:
---
Please select another destination:
---
This site visited
times since 4/11/99.
Free counters provided by Honesty Communications.

---
"Pika Sweet" and "Mr. Squirtle" Copyright 1999 David Ramsay and Kimberly J. Ramsay. All rights reserved.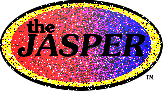 Copyright 1997~2006 David Ramsay and Kimberly J. Ramsay. All rights reserved.
"The Japanese Animation Super Premier Entertainment Review" ,
"the J.A.S.P.E.R." and "theJASPER" logo are trademarks of David Ramsay, 1998~2006.
"theJASPER Cosplay Closet" logo and
"The Cosplay Closet: 'Where Costumes Become Anime-ted' "slogan
are ® Registered Trademarks of David Ramsay, 1999~2001.
David "Z-RAM" Ramsay and Kimberly "Hikaru-chan" J. Ramsay acknowledge the
copyright holders of materials contained herein and do not seek to infringe on their rights.
Reproduction in whole or in part without permission is prohibited.