Johnny Rico
Summer 2004
© 2004 David Ramsay
Click on images for a larger view!


Bug Riding Champion, Johnny Rico!
Original creation. Back in 1996, I took part in the actual fabrication, maintenance and issuing of the 650 sets of Mobile Infantry armor and helmets for the film. Having access to film-used costumes and props allowed me to make accurate recreations for myself. Johnny's armor is a "one-off" plaster mold, made of RU-426 rubber (the original film armor was EST-40). Similar to the film version, I secured the webbing and metal plates with pop rivets. My armor was modified to include a front zipper, so that it would resemble a bull rider's protective vest. All of the colorful emblems on the vest are made of paper attached to thin sheets of styrene. Similar to race car drivers, professional bull riders cover their vests, shirts and chaps with sponsors' logos. Some of Johnny's emblems reflect phases of his career (examples: Buenos Aires flag, "B" varsity letter for Buenos High), as well as our personal lives (example: West Coast Bug Riders). While other emblems parody popular culture (examples: "Mangler" jeans and "Pud Light"). Johnny's shirt is made from scratch, with the Mobile Infantry flag carefully painted on the front. Instead of a traditional Western shirt, I wanted to create the effect of one looking at the flag through vertical blinds. The appropriate Mobile Infantry emblems were sewn to the sleeves. Johnny's rodeo chaps were a very time consuming and important part of the costume. The lined chaps are monogrammed "JR" in studs. Colorful gems were added, and a fancy metal belt detail in the back. We were able to find some old Tony Lama boots in gray and black. I added spurs and straps to the cowboy boots, adorned with tiny Mobile Infantry eagles. To top things off, Johnny wears an authentic Stetson cowboy hat, with a Mobile Infantry emblem in front.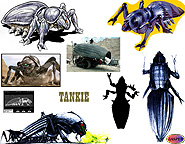 Johnny Rico and Tankie's references.
We're big fans of Professional Bull Riding.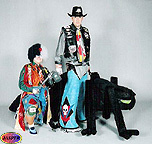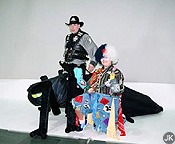 The cast of "8 Seconds". Two identical sets of chaps were made... one to wear while
moseyin' along, and one for the set of half-scale legs used while "riding" the bug.
(Thanks to Jack Krolack for these photos.)



Johnny is sportin' a custom Mobile Infantry shirt.
(Note the huge Pro Bug Rodeo belt buckle.)
For some time, Kimberly and I tossed the idea of a Starship Troopers skit around. We kept gravitating to a scene in the film when Johnny Rico jumps on the back of a mean Tanker Bug, tosses a grenade under it's shell and "saves the day". Instead of just recreating this scene from the film, we gave it a Western spin. Johnny Rico would be bareback riding a Tanker Bug, like cowboys bull riding at a rodeo. Our hero would be participating in the "Intergalactic Finals, PBR - Pro Bug Rodeo Tour", sponsored by S.I.C.O.N. Kimberly and I enjoy watching bull riding at local fairs and on television, so why not have some fun? I have been an obsessed Starship Troopers collector for over eight years. Basically, I collect anything relating to Robert A. Heinlein's story - film-used props, books audio/video, promotional goods, etc. It was time to see this crazy skit realized, so we gathered as much information (and parts) to see it through. We presented our "first dress" at Noreascon 4, the 62nd World Science Fiction Convention.
For more information about my Starship Troopers reference collection, please visit:
---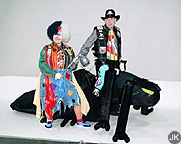 Yee-Haw! Welcome to the Intergalactic Finals.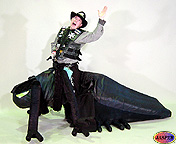 Johnny, don't get caught in the well!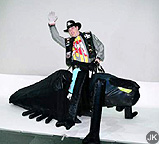 Tankie ain't no lil' Planet P fightin' bug...


Purdy, the FedNet Clown.
Her job is to protect the bug riders from injury.


Tankie is one really rank bug!
---
Kimberly and I wanted Tankie (One really rank bug!) to be more comical in design, compared to the scary Tanker Bug film version. More importantly, we desired an accurate silhouette of a Tanker Bug for Johnny Rico to bareback ride. Tankie is composed of inflatable floatation devices that were carefully sewn into fabric pockets. The body was designed this way, so it would be light and easily inflated by a portable pump. We can travel and store Tankie by simply deflating the head and body. The legs were constructed of foam "Fun Noodles", sewn into fabric sleeves. Again, we needed to fabricate a lightweight prop that could be assembled quickly and not take up too much space. I stand between the two main sections of Tankie, and control the bug's movement by pushing back and forth. Belt straps keep the bug connected. For the bug riding performance, a smaller set of legs were designed, to give the impression that Johnny is actually riding. Initially, we were inspired by the cowboy clowns at the Orange County Fair. Throughout the day, these fellas gallop on their plush horses, with tiny feet flopping at their sides. I designed a matching set of lined "baby" chaps, with studs, colorful gems and silver fringe.
---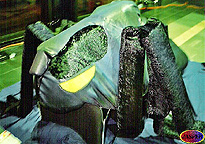 There's not a bug in tha business that loves the game more...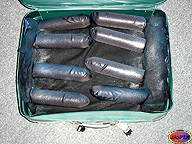 When it's time to go home, Tankie easily deflates into a suitcase.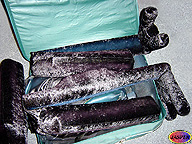 This rank bug is lightweight and manageable.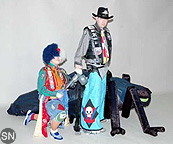 Cowboys in Boston?!.
(Thanks to Sniper for these photos.)
---
Please select another destination:
---
This site visited
times since 4/11/99.
Free counters provided by Honesty Communications.

---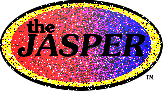 Copyright 1997~2006 David Ramsay and Kimberly J. Ramsay. All rights reserved.
"The Japanese Animation Super Premier Entertainment Review" ,
"the J.A.S.P.E.R." and "theJASPER" logo are trademarks of David Ramsay, 1998~2006.
"theJASPER Cosplay Closet" logo and
"The Cosplay Closet: 'Where Costumes Become Anime-ted' "slogan
are ® Registered Trademarks of David Ramsay, 1999~2001.
David "Z-RAM" Ramsay and Kimberly "Hikaru-chan" J. Ramsay acknowledge the
copyright holders of materials contained herein and do not seek to infringe on their rights.
Reproduction in whole or in part without permission is prohibited.