I.C.E.: Independent Combat Engineers
Summer 1990-1991
© 1990-1991 David Ramsay
Original creation with piecemealed components. Jacket: Hand quilted gray, rip-stop polyester with foam-core inserts. Asymmetrical design covers left leg, protecting the wearer's silhouette while in a firing position. Forearms and left shoulder armor made from rubber stair treads grommeted together. Helmet, dagger, belt and mask are found objects. Armed with a standard P.A.W..
Click on images for a larger view!
I discovered William Gibson's Neuromancer novels and soon fell in love with the Cyberpunk genre. This developed into my fascination with future weapons and technology. In the future there will be no courts or lawyers. Corporations will use their own "soldiers" to carry out legal actions. Tomorrow's corporate commandos will be the "Independent Combat Engineers" (I.C.E.). This costume evolved over the years and eventually included a dress shirt, formal wear as well as armored combat gear. The prop weapons evolved as well and inspired an entire line of P.A.W.s.
---


Halt! ...or I'll yell "Halt!" again.
Notice my custom clone identification badge.



During a panel I hosted at EveCon 1990, and while monitoring the halls...


Campus "escort" van driver at MICA.
Notice my "hit" markings on the side of the van.

Rasta-Andy variation from Balticon 26.
Kimberly made the wig from scratch, using hand-dyed felted wool attached to a shower cap.


At CastleCon 1991.


Kimberly's unique interpretation... on the sales floor.
---
Please select another destination:
---
This site visited
times since 4/11/99.
Free counters provided by Honesty Communications.

---
"I.C.E.: Independent Combat Engineers" and "Rasta-Andy" Copyright 1990-1991 David Ramsay. All rights reserved.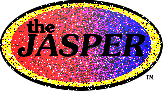 Copyright 1997~2006 David Ramsay and Kimberly J. Ramsay. All rights reserved.
"The Japanese Animation Super Premier Entertainment Review" ,
"the J.A.S.P.E.R." and "theJASPER" logo are trademarks of David Ramsay, 1998~2006.
"theJASPER Cosplay Closet" logo and
"The Cosplay Closet: 'Where Costumes Become Anime-ted' "slogan
are ® Registered Trademarks of David Ramsay, 1999~2001.
David "Z-RAM" Ramsay and Kimberly "Hikaru-chan" J. Ramsay acknowledge the
copyright holders of materials contained herein and do not seek to infringe on their rights.
Reproduction in whole or in part without permission is prohibited.