Captain Harlock
January 1989
© 1989 David Ramsay
Japanese Animation recreation from "My Youth in Arcadia". Lined cape and hi-collar shoulder cape, with puffy fabric paint skull accent. White skull appliqué sewn to top. Belts with Sculpty buckles and accents. Yellow piping sewn to pants. Brown gardening gloves with hand-painted skull accents. Fabric cuffs attached to purchased women's boots. Prop sword made from a recycled fishing pole with Sculpty skull.
Click on images for a larger view!




My first anime-inspired recreation, on stage at EveCon 6...
My first anime-inspired recreation debuted at EveCon 1989. This was a challenging costume for me, due to the number of parts and detail required to make an accurate recreation. At the time, there were no anime conventions for me to attend, so I wore my Captain Harlock costume to a local Sci-Fi convention. The costume was well-received, even though the majority of the audience didn't know who I was supposed to be.
---



Klingon spoof: "Captain K'arlock" with Orion mistress from SciCon 13. This convention traditionally received many Klingon guests, so this variation was highly appropriate.
---
Please select another destination:
---
This site visited
times since 4/11/99.
Free counters provided by Honesty Communications.

---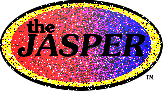 Copyright 1997~2006 David Ramsay. All rights reserved.
"The Japanese Animation Super Premier Entertainment Review" ,
"the J.A.S.P.E.R." and "theJASPER" logo are trademarks of David Ramsay, 1998~2006.
"theJASPER Cosplay Closet" logo and
"The Cosplay Closet: 'Where Costumes Become Anime-ted' "slogan
are ® Registered Trademarks of David Ramsay, 1999~2001.
David "Z-RAM" Ramsay and Kimberly "Hikaru-chan" J. Ramsay acknowledge the
copyright holders of materials contained herein and do not seek to infringe on their rights.
Reproduction in whole or in part without permission is prohibited.