Cybernetic Fiend
Fall 1991
© 1991 David Ramsay
Original creation with piecemealed components. Modified "Jason" mask with camera lens, reticule and phone wires mounted via PC-7. The understructure of the chest armor is buckram, muslin and aluminum armature wire covered with squares of painted foamcore. Shoulder armor was modified children's shoulder pads, hot glue and canvas. Forearm armor made from rubber stair treads. Grieves made from fiberglass casting tape. Prop "shock prod" constructed of found objects, including a video camera "tube" and industrial capacitors.
Click on images for a larger view!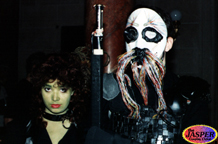 Halloween party at MICA.
A class project that I wore for Halloween in 1991. It started out as a mask-making exercise that turned into a whole costume. I combined various parts that were lying about my apartment. At the time, I was collecting old computer and machine parts. My first experimentation with PC-7, a two-part epoxy, allowed me to have wires coming out of the mouth from all different directions. Kimberly and I entered a Halloween contest at school and won the "Most Original" award.
---
---
Please select another destination:
---
This site visited
times since 4/11/99.
Free counters provided by Honesty Communications.

---
"Cybernetic Fiend" Copyright 1991 David Ramsay. All rights reserved.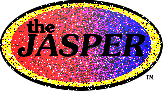 Copyright 1997~2006 David Ramsay. All rights reserved.
"The Japanese Animation Super Premier Entertainment Review" ,
"the J.A.S.P.E.R." and "theJASPER" logo are trademarks of David Ramsay, 1998~2006.
"theJASPER Cosplay Closet" logo and
"The Cosplay Closet: 'Where Costumes Become Anime-ted' "slogan
are ® Registered Trademarks of David Ramsay, 1999~2001.
David "Z-RAM" Ramsay and Kimberly "Hikaru-chan" J. Ramsay acknowledge the
copyright holders of materials contained herein and do not seek to infringe on their rights.
Reproduction in whole or in part without permission is prohibited.