Mr. Kappa
(Gallery One)

Summer 2001

© 2001 David Ramsay

Original creation. The Mr. Kappa costume consists of a brown long sleeve hooded lycra unitard, with a distressed fabric shell. Raffia and burlap dyed raincoat, with artificial ivy leaves attached to the surface. Trademark "Kappa crown" of fur with water collector. Custom footwear, with wet mud detail. Accessories include two drinking gourds... for any occasion.

Click on images for a larger view!



The Kappa is a mischievous character.




Mr. Kappa was a fun costume project.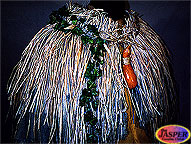 Layering textures to create a unique effect.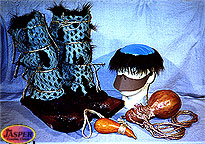 Mr. Kappa's accessories.

Genki Kappa!


Mr. Kappa enjoys a swig or two before tormenting humans.
For AnimeExpo 2001, Kimberly wanted to a wear a distressed costume. For our "Variety is a Spice of the Cosplay Closet" panel, we wanted to talk about distressing garments. So we thought about what costume would compliment her Mana Oiseau costume. Since her costume is predominantly blue, we wanted to go with an earthy-tone costume. I decided to make a costume, based on a Japanese mythological creature... a Kappa. What is a Kappa? A water imp that likes to take advantage of humans and play tricks on them. Kappas have been depicted in many different ways, however, they are easily recognized by their turtle-like shell, beak and recessed head. Water collects on top of their heads, and Kappas must stay wet in order to survive. Legend suggests that one should be very polite to a Kappa, by bowing. The Kappa returns the courtesy, and bows lower. This makes the water pour from their head, so the Kappa must return to the water for a refill. In the meantime, one should be running away as fast as they can to avoid the Kappa's wrath.

For the Mr. Kappa costume, I utilized several distressing techniques. For my raffia and burlap raincoat , I used Rit Dye for a nice streaking effect. I randomly dipped the raincoat into a dye bucket, so the dye would travel unevenly up the fibers. For the turtle shell, I used Nu-Life Color Spray to give the shell a very worn and dirty outer appearance. The lower portion of the shell looks as if I have been sitting in mud... all comfy and cozy. Fabric strips were distressed with a wire file brush and dyed green to resemble algae clinging to Mr. Kappa's body. The footwear was also distressed, to look as if mud and other yucky stuff was caked on the surface. This was a fun project for me... a nice break from clean edge garments that rely on accuracy. Free to experiment with different materials and use a variety of distressing methods I learned in the theatre.
---


Mr. Kappa (Mr. Squirtle's cousin from a small, Japanese farming community).


Waiting for unsuspecting travelers...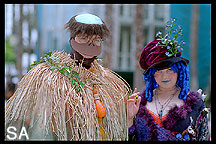 Beautiful photographs by Sherwin "Wuken" Abesami.

For more Kappa action:
---
Please select another destination:
---
This site visited
times since 4/11/99.
Free counters provided by Honesty Communications.

---
"Mr. Kappa" and "Mana Oiseau" Copyright 2001 David Ramsay and Kimberly J. Ramsay. All rights reserved.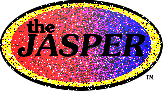 Copyright 1997~2006 David Ramsay and Kimberly J. Ramsay. All rights reserved.
"The Japanese Animation Super Premier Entertainment Review" ,
"the J.A.S.P.E.R." and "theJASPER" logo are trademarks of David Ramsay, 1998~2006.
"theJASPER Cosplay Closet" logo and
"The Cosplay Closet: 'Where Costumes Become Anime-ted' "slogan
are ® Registered Trademarks of David Ramsay, 1999~2001.
David "Z-RAM" Ramsay and Kimberly "Hikaru-chan" J. Ramsay acknowledge the
copyright holders of materials contained herein and do not seek to infringe on their rights.
Reproduction in whole or in part without permission is prohibited.