theJ.A.S.P.E.R. makes no representations whatsoever about other web sites which you may access through this one. When you access another web site, please understand that these are independent from theJ.A.S.P.E.R., and that theJ.A.S.P.E.R. has no control over the content on these sites. If you come across a dead link, let me know, so I can remove it. Please enjoy my small gallery of parakeet links.
---
If you would like to link my site, please use the banner and URL listed below:

http://www.costumemaker.com/budgie.html
---

Me & My Budgie (English) Highly recommended. An entertaining and informative site by Jennifer Parks, with many budgie images, links and resources.
BirdsnWays: Guide to Parrots and Exotic Pet Birds (English) Comprehensive site, with general bird info, pictures, message board and links. Includes bird merchandise links!

Bird Talk (English) A great source for bird information and breeder contacts. Also includes a calendar of bird events throughout the US!

Beak Boutique (English) Affordably priced bird art by talented artist, Nancy Kasten. Very entertaining site, with many hilarious bird illustrations, such as "Quick Draw Macaw" (my personal favorite) and "English Budgie" (Piccolo's favorite). She also makes "serious" portraits of our feathered friends as well.
The California Parrot Project (English) Researching Parrots (and other naturalized birds) in the Wilds of California's Suburban Jungles® A wide variety of parrots have been spotted throughout Southern California, including our neighborhood. A good site, with parrot identification tips and information on how the parrots may have arrived in sunny California.

Nancy Kobert's Amazing World of Birds (English) Meet Nancy and her wonderful birds. We were fortunate to see Nancy's entertaining show at the America's Family Pet Expo. If you ever get the chance to see her birds in person, we would highly recommend it.

Budgie Madness! (English) Steven Hanov's funny tribute to budgies. Home of Budgie-Zilla: "They Came, They Saw... They Ate." Snacking on Times Square, and the Twin Towers as a main course!

Friz-Elvis Showroom (English) A-hunk-a-hunk of burning nub... Meet Friz-Elvis and Frizilla, the talented birds of Disgraceland!

Gatesey the Little Blue Budgie (English) A splashy site, with fun pictures and sounds of Gatesey, as well as general budgie info.

A Little Patch of Clover (English) David and Kimberly's new avian companion, Clover, a Senegal Parrot.

Bird Island (English/Japanese) Highly recommended. Sho's site is easy to navigate, with plenty of bird images (Budgerigars, Cockatiels, Lovebirds, Yellow-Headed Amazon, Wagler's Conure, Greater Hill Mynah and many more), information and links. Even original budgie animations! Includes English Budgies too - Piccolo approves!

Susaki's Home Page (Japanese) Adorable baby bird pictures of budgie and cockatiel! Home of a talented male budgie that speaks many Japanese phrases! His funny voice is archived online as wav and mpeg files. For a sample of his voice, click here... and here.

Around the Inko Tsuruta (English/Japanese) Yayoi Tsuruta's adorable budgie pictures, including a "Drinking wine" gallery... one has to see this to believe. She also has cute lovebirds. I LOVE the "pet warmer" bags.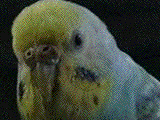 Daikichi Ozaki the Budgie (Japanese) Really funny images, especially the "break dancing" budgie animation.

Chi Chan (Japanese) Chi Chan is a loving and cute white budgie. This site includes many comical original illustrations of Chi Chan.


Bon Chan (Japanese) Visit Bon Chan, a mischievous lil' budgie. Hilarious budgie manga (comic).

Animal Park (a.k.a. Mayu of the janitor in "striking-how woods") (Japanese) Another cute image gallery. The "floating budgie head" banner alone made me want to link them up!

Sumikage's Okiraku Home Page (Japanese) Please visit Tora and Ume, and adorable pair of parakeets. Other pet images, such as cat, turtle, fish and even snail are included!

Naoko's Page (Japanese) A very nice site, featuring sweet cockatiel images and original manga (comic), with extensive collection of parrot icons. Meet friendly cockatiels Meme, Mamai and Mona. Worth a visit!


Return to Budgie Image Gallery Index
Please select another destination:
---
This site visited
times since 2/3/01.
Free counters provided by Honesty Communications.

---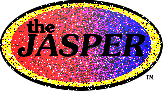 Copyright 2001~2006 David Ramsay and Kimberly J. Ramsay. All rights reserved.
"The Japanese Animation Super Premier Entertainment Review" ,
"the J.A.S.P.E.R." and "theJASPER" logo are trademarks of David Ramsay, 1998~2006.
"theJASPER Cosplay Closet" logo and
"The Cosplay Closet: 'Where Costumes Become Anime-ted' "slogan
are ® Registered Trademarks of David Ramsay, 1999~2001.
David "Z-RAM" Ramsay and Kimberly "Hikaru-chan" J. Ramsay acknowledge the
copyright holders of materials contained herein and do not seek to infringe on their rights.
Reproduction in whole or in part without permission is prohibited.
First uploaded February 3, 2001 by: David Ramsay