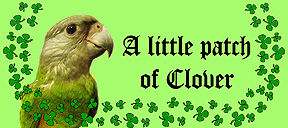 Hello! My name is Clover. I am just a baby, so I am finding my way around. I like to snuggle, and receive neck rubs. My new home is full of many strange creatures, some furry and feathered. I also have a Mommy and Daddy who love me very much.
---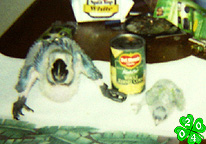 An enormous Macaw chick and lil' Clover.
We wish to personally thank Kathy for doing such a great job
of hand raising and providing us a healthy bird.


Gently coaxing Clover from his travel cage.



Clover was initially scared of his new surroundings.



After a few minutes, Clover was ready to move.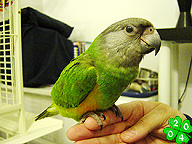 He immediately recognized the "Step Up" command,
and climbed onto Kimberly's hand.
Please select from one of the three Galleries below:
Return to Clover's Image Gallery Index
---
If you would like to link my site, please use the banner and URL listed below:

http://www.costumemaker.com/clover.html
Please select another destination:
---
This site visited
times since 2/3/01.
Free counters provided by Honesty Communications.

---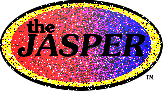 Copyright 2001~2006 David Ramsay and Kimberly J. Ramsay. All rights reserved.
"The Japanese Animation Super Premier Entertainment Review" ,
"the J.A.S.P.E.R." and "theJASPER" logo are trademarks of David Ramsay, 1998~2006.
"theJASPER Cosplay Closet" logo and
"The Cosplay Closet: 'Where Costumes Become Anime-ted' "slogan
are ® Registered Trademarks of David Ramsay, 1999~2001.
David "Z-RAM" Ramsay and Kimberly "Hikaru-chan" J. Ramsay acknowledge the
copyright holders of materials contained herein and do not seek to infringe on their rights.
Reproduction in whole or in part without permission is prohibited.
First uploaded October 25, 2004 by: David Ramsay