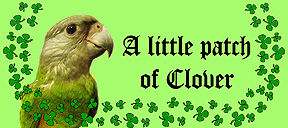 Hello! My name is Clover. Here are some pictures of me eating. Since I am very young, Mommy tries to give me different things to eat for the first time. So far, I like to eat baby food (Mommy gives me many tasty flavors), dried papaya and in-the-shell peanuts. I am learning how to hold food in my foot and crack open nuts.
---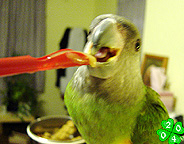 Clover enjoys some baby food.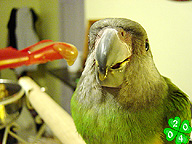 A brief pause before devouring...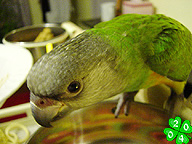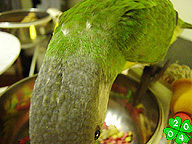 Clover nibbles on some birdie kibble.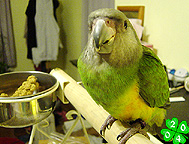 Even with a full crop, this weanling is looking for more food.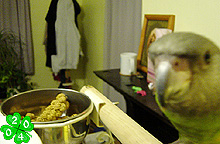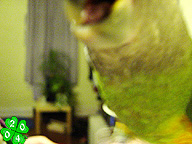 Anything can be considered a "treat", including the camera.
Please select from one of the three Galleries below:
Return to Clover's Image Gallery Index
---
If you would like to link my site, please use the banner and URL listed below:

http://www.costumemaker.com/clover.html
Please select another destination:
---
This site visited
times since 2/3/01.
Free counters provided by Honesty Communications.

---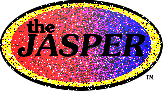 Copyright 2001~2006 David Ramsay and Kimberly J. Ramsay. All rights reserved.
"The Japanese Animation Super Premier Entertainment Review" ,
"the J.A.S.P.E.R." and "theJASPER" logo are trademarks of David Ramsay, 1998~2006.
"theJASPER Cosplay Closet" logo and
"The Cosplay Closet: 'Where Costumes Become Anime-ted' "slogan
are ® Registered Trademarks of David Ramsay, 1999~2001.
David "Z-RAM" Ramsay and Kimberly "Hikaru-chan" J. Ramsay acknowledge the
copyright holders of materials contained herein and do not seek to infringe on their rights.
Reproduction in whole or in part without permission is prohibited.
First uploaded October 25, 2004 by: David Ramsay