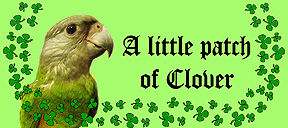 theJ.A.S.P.E.R. makes no representations whatsoever about other web sites which you may access through this one. When you access another web site, please understand that these are independent from theJ.A.S.P.E.R., and that theJ.A.S.P.E.R. has no control over the content on these sites. If you come across a dead link, let me know, so I can remove it. Please enjoy my small gallery of Senegal Parrot and other bird links.
---
If you would like to link my site, please use the banner and URL listed below:

http://www.costumemaker.com/clover.html
---

African Parrot Society (English) Highly recommended. Useful information and many cute pictures of African Grey Parrots and Poicephalus Parrots.
Poicephalus FAQ (English) Ken Hulme's excellent resource guide on the Senegal Parrot, as well as other parrots.
BirdsnWays: Guide to Parrots and Exotic Pet Birds (English) Comprehensive site, with general bird info, pictures, message board and links. Includes bird merchandise links!


All About Parrots: Iago's Homepage (English) Visit Iago, an adorable Senegal Parrot, along with his feathered friends - including a funny cockatoo named Zazu. Website provides lots of parrot information and pictures.


Birdies Paradise (Dutch) Fun website from The Netherlands, with many pictures of Senegal Parrots, Lovebirds and other small parrots.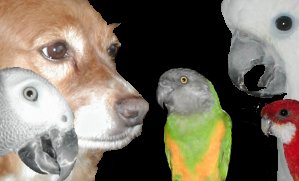 De website van Fam van Halderen (English/Dutch) Meet Gijsje, a Senegal Parrot, other birdies and even a doggie named Nicky on this cute website from The Netherlands.


Mikey, the senegal parrot (English) Ellen's very cool site, featuring spunky Mikey. Many Senegal Parrot pictures and resources, as well as useful parrot information.

Parrot Parrot - Maxwell's Page (English) See Maxwell, a friendly Senegal. This website offers a great deal of information on a variety of parrots.


Tintin & Pixel's Homepage (Dutch) See a lil' Tintin, a playful Senegal from The Netherlands.
Zachary's Homepage (English) Highly recommended. The home of a very special Double Yellow Headed Amazon, named Zachary. Meet Zachary's feathered friends - Sidney, a Senegal Parrot, and his Lovebird buddy, Kimo. Plenty of useful parrot information, concerning training, maintenance and diet. A must visit!
African Senegal Parrot (English) See Kiwi's adorable movie here.
Birdlady Diane's Website (English) Read about a Senegal named Pico a Pico, and other entertaining stories about Diane's birds.
Devon and Dan's Page (English) Stop by and see two rambunctious Senegals.
Jaskim's Pet Community (English) Good pet site, with a mischievous Senegal named Mango.
Kendra's Page (English) Visit Dr. Michael D. Mehta's friend, Kendra, a sweet Senegal Parrot.
Kiwi's Page (English) Say "hello" to Kiwi, a fun-loving Senegal Parrot.
Moochie's Page (English) Don Northup's playful pictures of his Senegal Parrot named Moochie.
Nicodemus' Page (English) Check up on Nicodemus, a cute Senegal that loves eating string beans.
Senegals Wear Green V-Shirts (English) Breeding information, and an interesting story about a special Senegal Parrot named E.T.
Welcome to Our Flocks Homepage (English) Highly recommended. Canadian website, where one can meet a Senegal Parrot named Mr. Tuxedo, along with other birdies - Lil' Miss Kiwi (Pacific Parrotlet Lucida), Danny Boy (Belgium Waterslager) and Katie (Congo African Grey). Judie's charming website, with many pictures and funny stories. LOVE the "Brain Freeze" pic of Mr. Tuxedo!
---

World Parrot Trust (English) "The charity funding projects and promoting excellence in parrot conservation and welfare." This organization provides relevant parrot information, and sells a variety of parrot-related merchandise.


The Alex Foundation (English) Highly recommended. Learn more about Dr. Irene Pepperberg's animal behavior research, and her special relationship with Alex - a African Grey Parrot that REALLY uses his brain. Website features Alex-related merchandise, as well as cool pictures of Alex and his avian friends in the lab.

Bird Talk (English) A great source for bird information and breeder contacts. Also includes a calendar of bird events throughout the US!

Beak Boutique (English) Affordably priced bird art by talented artist, Nancy Kasten. Very entertaining site, with many hilarious bird illustrations, such as "Quick Draw Macaw" (my personal favorite) and "English Budgie". She also makes "serious" portraits of our feathered friends as well.
The California Parrot Project (English) Researching Parrots (and other naturalized birds) in the Wilds of California's Suburban Jungles® A wide variety of parrots have been spotted throughout Southern California, including our neighborhood. A good site, with parrot identification tips and information on how the parrots may have arrived in sunny California.

Nancy Kobert's Amazing World of Birds (English) Meet Nancy and her wonderful birds. We were fortunate to see Nancy's entertaining show at the America's Family Pet Expo. If you ever get the chance to see her birds in person, we would highly recommend it.

For the Love of Nubs (English) Visit Kimberly's birdie website, featuring parakeets and one silly cockatiel named Beau. She collects parakeet-related merchandise (figurines, jewlery, stamps, toys, etc.) and Japanese bird manga (comics).

Whisper's Retreat (English) Meet Whisper, our Maximilian Pionus Parrot. She is a beautiful parrot that loves to whistle and eat French fries.

Bird Island (English/Japanese) Highly recommended. Sho's site is easy to navigate, with plenty of bird images (Budgerigars, Cockatiels, Lovebirds, Yellow-Headed Amazon, Wagler's Conure, Greater Hill Mynah and many more), information and links from all over the world.

Return to Clover's Image Gallery Index
Please select another destination:
---
This site visited
times since 2/3/01.
Free counters provided by Honesty Communications.

---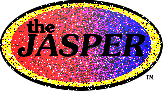 Copyright 2001~2006 David Ramsay and Kimberly J. Ramsay. All rights reserved.
"The Japanese Animation Super Premier Entertainment Review" ,
"the J.A.S.P.E.R." and "theJASPER" logo are trademarks of David Ramsay, 1998~2006.
"theJASPER Cosplay Closet" logo and
"The Cosplay Closet: 'Where Costumes Become Anime-ted' "slogan
are ® Registered Trademarks of David Ramsay, 1999~2001.
David "Z-RAM" Ramsay and Kimberly "Hikaru-chan" J. Ramsay acknowledge the
copyright holders of materials contained herein and do not seek to infringe on their rights.
Reproduction in whole or in part without permission is prohibited.
First uploaded October 25, 2004 by: David Ramsay