--- Rajsha's Memorial ---

September 1994 ~ July 2005
---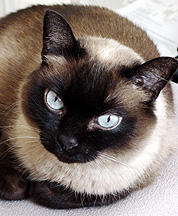 Rajsha our beloved cat. She was a beautiful Tonkinese.


Ramsay, Rajsha born September ?, 1994; was laid to rest on July 5, 2005.
Gentle "Boo", who brought so much happiness to our lives.
A rescued cat from the streets of Long Beach.
She provided unconditional love, and helped us through our darkest times.
We will miss you Rajsha.


The first week home.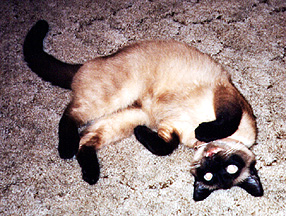 Rajsha had so much energy as a youngster.
She loved performing a fake, "oh, I am defenseless" move before chomping my hand.
(Note smile on face.)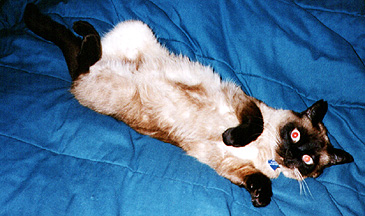 Rajsha frequently lounged on our comforter, leaving a nice trail of fur.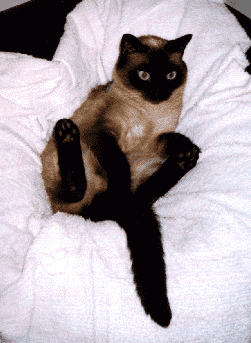 Rajsha often relaxed in her beanbag chair.
This way, she could survey all activities in the living room.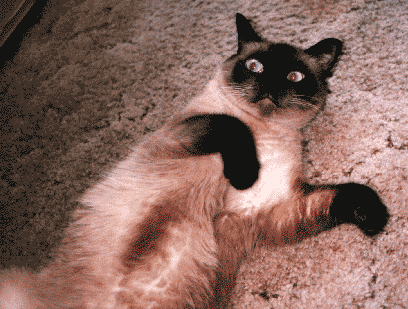 Rajsha spaced out after a toke of nip.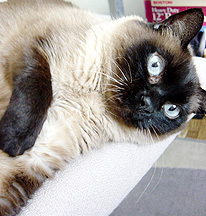 In her older years, Rajsha spent most of her time dozing off.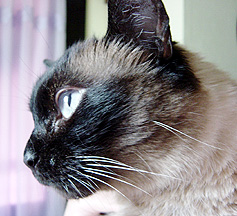 Rajsha's last day... bathed in light. Goodbye, dear friend.
Please select another destination:
---
This site visited
times since 4/11/99.
Free counters provided by Honesty Communications.

---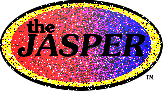 Copyright 1997~2006 David Ramsay and Kimberly J. Ramsay. All rights reserved.
"The Japanese Animation Super Premier Entertainment Review" ,
"the J.A.S.P.E.R." and "theJASPER" logo are trademarks of David Ramsay, 1998~2006.
"theJASPER Cosplay Closet" logo and
"The Cosplay Closet: 'Where Costumes Become Anime-ted' "slogan
are ® Registered Trademarks of David Ramsay, 1999~2001.
David "Z-RAM" Ramsay and Kimberly "Hikaru-chan" J. Ramsay acknowledge the
copyright holders of materials contained herein and do not seek to infringe on their rights.
Reproduction in whole or in part without permission is prohibited.
First uploaded Aug. 4, 1997 by: David Ramsay
Major Renovation September 1, 2000
Updated February 3, 2001