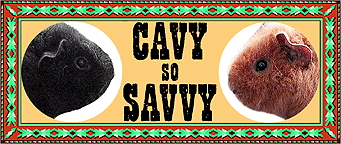 What is a Teddy?

The Teddy cavy has a short coat full of "kinked" hair shafts without ridges or rosettes. Their dense hair is soft and curly, resembling a Teddy bear. Our Teddies have nice roly-poly bodies, yet they move very fast. The Teddy has a sweet disposition, and we love ours very much.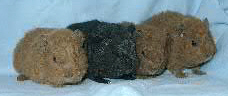 Aren't they just adorable?!
(Yuri is second on the left, and Kei is on the far right. Litter born January 13, 2002.)
Baby picture courtesy of Briar Patch Caviary. Thank you Penny!
Kei and Yuri are picky eaters. So far, they like the following fare:
Red Delicious Apple
Macintosh Apple
Empire Apple
Gala Apple
Pink Lady Apple
Dried Apple
Carrot
Carrot Greens
Corn
Corn Husk
Belgian Endive
Dandelion Greens
Red Leaf Lettuce
Red Seedless Grapes
Sesame Melba Rounds
Kei and Yuri reside in the "3-story" Ferret house by Super Pet.
This allows 900 square inches of living space!
Return to Cavy Image Gallery Index
---
If you would like to link my site, please use the banner and URL listed below: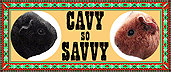 http://www.costumemaker.com/cavy.html
Please select another destination:
---
This site visited
times since 3/1/02.
Free counters provided by Andale.

---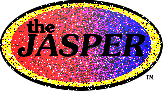 Copyright 2002~2006 David Ramsay and Kimberly J. Ramsay. All rights reserved.
"The Japanese Animation Super Premier Entertainment Review" ,
"the J.A.S.P.E.R." and "theJASPER" logo are trademarks of David Ramsay, 1998~2006.
"theJASPER Cosplay Closet" logo and
"The Cosplay Closet: 'Where Costumes Become Anime-ted' "slogan
are ® Registered Trademarks of David Ramsay, 1999~2001.
David "Z-RAM" Ramsay and Kimberly "Hikaru-chan" J. Ramsay acknowledge the
copyright holders of materials contained herein and do not seek to infringe on their rights.
Reproduction in whole or in part without permission is prohibited.
First uploaded March 1, 2002 by: David Ramsay